Pandemic, participatory budgeting, policing @ North Highline Unincorporated Area Council's April meeting
By Tracy Record
White Center Now editor
Three King County guests with very different focuses were in the spotlight at this month's North Highline Unincorporated Area Council meeting, held online Thursday night.
PANDEMIC: Becky Reitzes from Seattle-King County Public Health was the first guest of the night. She began by mentioning the "concerning" recent rise in cases. It could be the start of a fourth wave, county health officer Dr. Jeff Duchin has warned.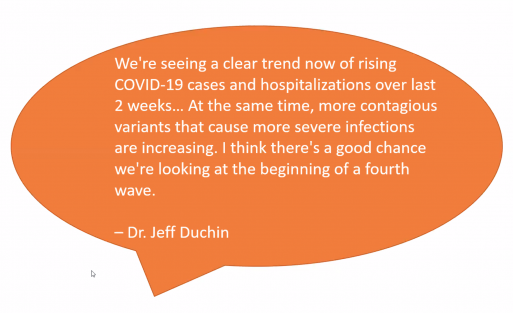 18-24 is the group with the highest increase in cases. They can pass it on – like to the 40-to-69 group that represents the biggest increase in hospitalizations. But the good news is that the vaccines are all working very well. Whichever shot is accessible to you is the one to get (unless for example getting two shots is going to be really difficult – say, someone experiencing housing instability – in which case the single-shot Johnson & Johnson vaccine might be preferable).
Is there talk of rolling back reopening, to hold off that fourth wave? Reitzes said she's sure there's talk about it but nothing's planned. "I'm hopeful people are going to get it together" and keep up precautions, she said.
She showed vaccination percentages from around the county and noted some stats showed above 100 percent because the baseline is old census data.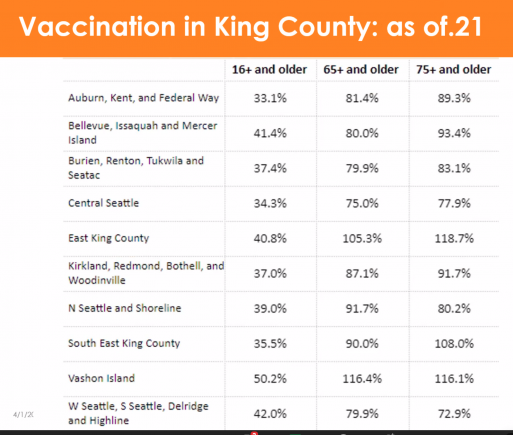 She also talked about the increase in eligibility, warning that availability still hasn't caught up. "We do not anticipate an increase in dose in the next couple weeks, but after that," things are likely to get better.
If you need telephone help with scheduling an appointment, there's a hotline for that: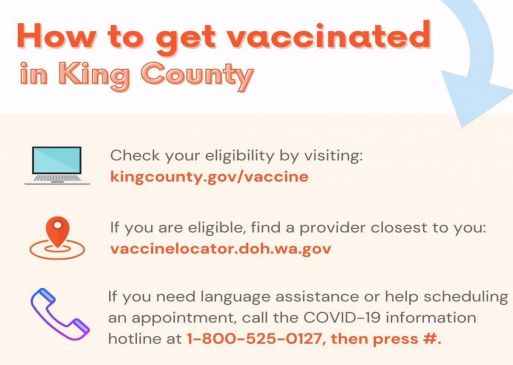 The county has lots of online help too: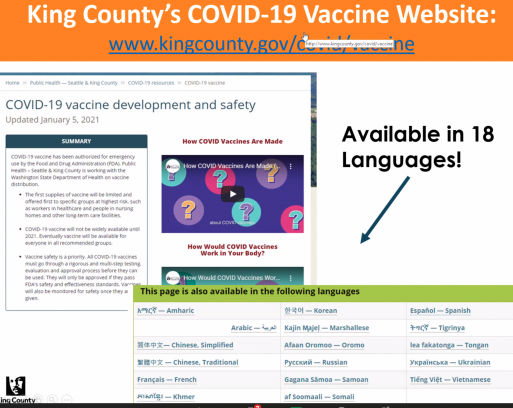 Reitzes fielded a variety of questions, such as, if you have had COVID, can – and when should – you get vaccinated. One person said a relative had been told, wait three months. Reitzes said that is not necessarily good advice because they just do not know how long natural immunity lasts. How long will the vaccine-conferred immunity last? No one knows yet. How do you get an appointment? She advises trying your search early in the morning. Is the county hearing much about vaccine hesitancy? Not a lot, but, they do hear about misinformation being spread, which can contribute to that. They're hearing much more about demand than hesitancy, she said. And even for those who are doubtful or skeptical, they see friends/family who got vaccinated, and that increases their comfort level.
KING COUNTY LOCAL SERVICES: Director John Taylor was back again this month. Main topic: Participatory budgeting. As reported here last week, the county is now recruiting for a Community Investment Committee to figure out how to spend the money set aside for this – $10 million. (Committee members will get some compensation, too.)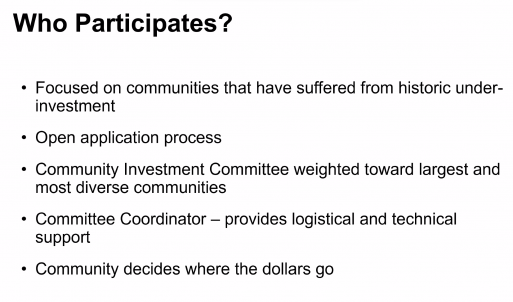 Gloria Briggs is a new coordinator hired for the effort, and she introduced herself. (She recently came to King County from Seattle City Light and said she has a long history of community advocacy.) Taylor continued, saying they're in the midst of a push to get information out and already have received some applications but they want a really "robust" group. Once the committee is formed, here's what happens: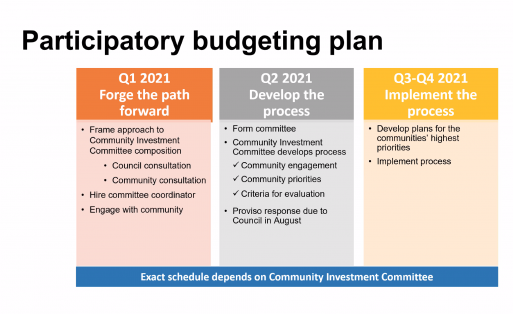 He also mentioned the first-ever Community Needs List, which will be incorporated into the next two-year budget cycle. The $10 million will be a "down payment" on that, "a pilot for how we approach these Community Needs Lists."
Q&A included – $10 million, five urban unincorporated areas, does that mean $2 million per area? No, said Taylor; most of the money will go to the biggest, most diverse areas – North Highline and Skyway. (There's also an additional million-plus from marijuana taxes going entirely to those areas.) How many members on the committee? Probably 21.
As an aside to a question about roads funding, Taylor said the county is still in desperate need for more money on that: "There are very few things that keep me up at night, roads funding keeps me up at night." So that is being brainstormed on a separate level.
KING COUNTY SHERIFF'S OFFICE: Storefront deputy Bill Kennamer said a shooting outside a hookah lounge in Top Hat had two victims and is still under active investigation. He plans to contact the building owner to try to deal with recurring problems at that business. Crime stats are "still consistently down from last year." He mentioned a robbery at a gas station on Roxbury in which the victim was uncooperative. He noted the Southgate Roller Rink takeover of the old Bank of America building on 17th SW is good news – one less vacant building. NHUAC board member Barbara Dobkin asked about recent drag racing, Kennamer said it's a regional problem, with a group that keeps moving around "to where the police don't expect them to be … They're very difficult to track." Could there be a regular KCSO presence on Roxbury to deter it? Kennamer noted that the racing happened around 1 am, and that's when there are two deputies for all of unincorporated North Highline. But, he said, he can suggest an emphasis patrol. What about the nuisance house near 18th/100th? Right now it's a code-enforcement issue, not a criminal issue. There's apparently an open case; Local Services director Taylor promised to check on its status. Kennamer also said LEAD is finally on its way to White Center "and that hopefully will get some of our locals off the street." He said he's been talking to some vehicle dwellers near 15th and 104th and "they're ready" to accept help.
KING COUNTY CONSERVATION CORPS: As reported here Tuesday, Taylor and King County Executive Dow Constantine joined them in cleanup work in White Center to showcase a proposal to expand the KCCC as part of pandemic–relief spending. Kennamer offered praise for the group, saying they'r doing great work.
KING COUNTY FRIDAY MEETINGS: NHUAC president Liz Giba recommended getting involved with these, noon every Friday. Info for participating/watching is on the Local Services home page.
NEXT MEETING: NHUAC meets first Thursdays, 7 pm, most months, so watch for info on the May 6th meeting when it gets closer.
You can follow any responses to this entry through the RSS 2.0 feed. Both comments and pings are currently closed.