VIDEO: County Executive Dow Constantine showcases jobs-program proposal in White Center visit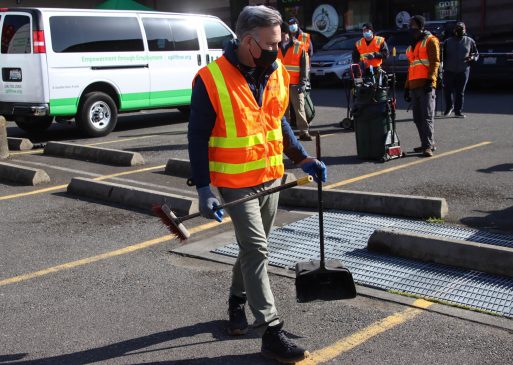 Back in fall 2019, King County Executive Dow Constantine visited White Center (WCN coverage here) to talk about the newly launched King County Conservation Corps. Today, he returned to join them on patrol, and to talk about a broader job-creation program that's part of his $600 million pandemic-relief budget addition.
The new proposal would create hundreds of jobs, expanding the KCCC and involving other county departments and divisions such as Roads and Parks; county Local Services director John Taylor joined him at this morning's event. The KCCC, by the way, is a partnership with Uplift Northwest, previously known as the Millionair Club, and started as a six-month pilot project but is still going strong. The jobs program would cost an estimated $40 million of the $600 million pandemic-relief proposal, which is now in the hands of the County Council.
Other parts of the budget proposal:
*Continued Public Health Response/Vaccinations & COVID operations: $253 million
*Community Supports-rental assistance, childcare, behavioral health: $199 million
*Economic Recovery: $92 million
The full document is linked at the end of last week's announcement.
You can follow any responses to this entry through the RSS 2.0 feed. Both comments and pings are currently closed.