HeLP for Seola Pond: Here's how to join in!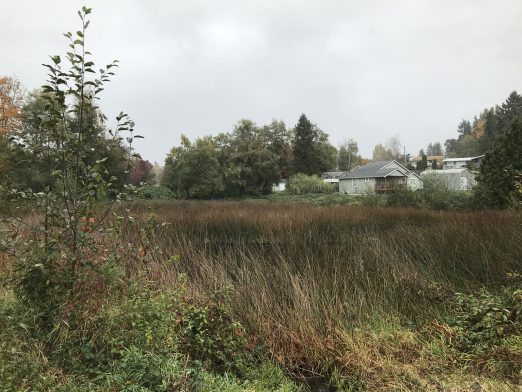 We've reported before on community work at Seola Pond. Now, it's getting some support from a new project of the King County Noxious Weed Control Program, which shared the photo and announcement:
On November 21 in White Center, The Healthy Lands Project (HeLP) is hosting a community open house about the restoration project at the Seola Pond green space and a free workshop on invasive weeds. HeLP will hold a volunteer planting event at Seola Pond on December 7, where neighbors can get hands-on experience planting native shrubs and trees and removing weeds to help make the green space a better place for people and nature. Volunteers at the work party will receive a free native plant to take home. Kids and families welcome!

Community Workshop and Open House
Thursday Nov. 21, 6:30 – 8:30 p.m.
Grace Church, 10323 28th Avenue SW

Seola Pond Work Party
Saturday, Dec. 7, 10 a.m. – 1 p.m.
Seola Pond, 30th Avenue SW and SW 105th Street

These events are part of HeLP's effort to support the community-led project to restore Seola Pond. In addition to the community events, HeLP contractor DIRT Corps will be removing invasive weeds this fall to make room for more native plants. For more information about events in White Center, contact Marta Olson, Education Specialist. For information about other upcoming events, Healthy Lands Project plans and how to participate, contact Dan Sorensen, HeLP Project Manager.
You can follow any responses to this entry through the RSS 2.0 feed. Both comments and pings are currently closed.