FOLLOWUP: Suspect charged, sought in stabbing that preceded White Center crash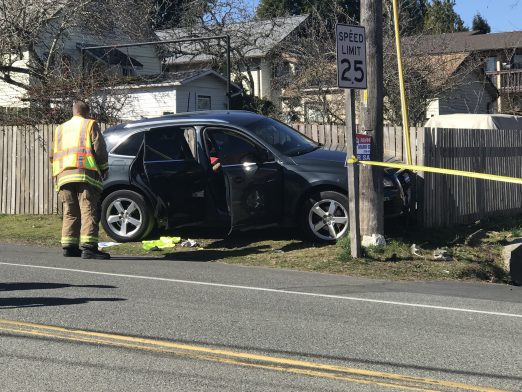 (WCN photo, March 20th)
A week and a half ago, we reported on that White Center crash, with a stabbing victim found in the wrecked car. Today, the King County Sheriff's Office reports a suspect has been identified and charged – and they need your help finding him:
On 3/20/2019 at about 2:25 PM, a 55 year old man was in a minor vehicle collision with a fence and pole at the 1700 block of SW 98th in White Center. When Deputies arrived, they found the victim had been stabbed multiple times and his throat cut. The victim was rushed to Harborview Medical Center in critical condition. The victim survived, but is still recovering.

The suspect in this attack has been identified by King County Major Crimes Detectives as Daniel Varela AKA "Capone," a 42 year old man listed at 5'9 and 175 pounds.

Varela has been charged by the King County Prosecutor's Office with 1 count of Assault 1. A felony warrant has been issued for Varela; the bail amount is 1 million dollars.

If you know of Varela's location please call 911. Do not attempt to contact him; he is considered armed and dangerous.
You can follow any responses to this entry through the RSS 2.0 feed. Both comments and pings are currently closed.