SATURDAY: Breakfast benefit for WCCDA at Lil' Woody's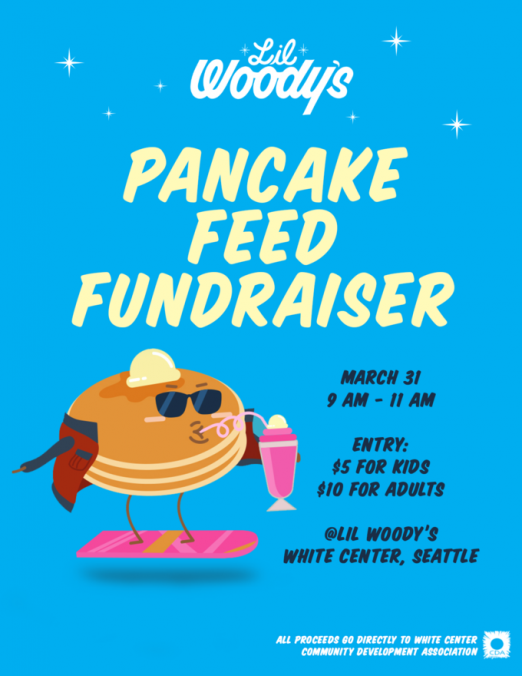 Lots of pre-Easter fun this Saturday … and you can fuel up for it with a benefit breakfast in downtown White Center:
Lil Woody's White Center will partner with the White Center Community Development Association (WCCDA) for their quarterly neighborhood breakfast feed fundraiser.

The family-focused events harken back to a time when the White Center space was once home to the Epicure restaurant, a major gathering spot in the 1950's- known to be where "the elite meet to eat." The "EP" as it was called, was owned and operated by Joe Boothby, who cooked roast beef on a spit near the front window. The meat became a favorite offering of the restaurant, along with the annual pancake breakfast fundraisers held downstairs.

On Saturday, March 31, from 9 am-11 am, Lil Woody's will be flipping lots of pancakes. The cost of the breakfast is $5 for kids and $10 for adults. 100% of the proceeds will benefit the WCCDA. Marcus Lalario of Lil Woody's says: "We think it's great to be located in a building that has played such a great role in White Center's history. These breakfasts are a nod to that past and by pairing up with the WCCDA, we can give back to the community that supports us."

Menu:
Food: Pancakes |Scrambled eggs |Bacon
Drinks: Mimosas |Caffe Vita Coffee
You can follow any responses to this entry through the RSS 2.0 feed. Both comments and pings are currently closed.