'Rocktoberfest' benefit at Company Store on September 9th for cancer-fighting documentary
Coming up in White Center in less than two weeks!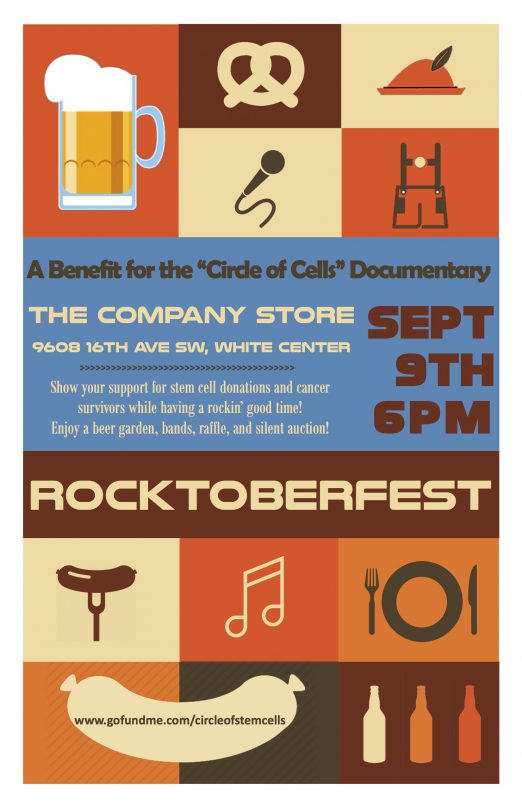 ROCKTOBERFEST: A Benefit Event
Supporting production of the "Circle of Cells" Documentary

Rocktoberfest is an age 21+ Oktoberfest-themed event benefitting Circle of Cells: a unique, autobiographical documentary about international stem cell donation and cancer survivors. Rocktoberfest takes place on Saturday, September 9th at Company Store in White Center, starting at 6:00 pm.

"Rocktoberfest is a fun way for people to contribute to cancer survival methods," says Sara Rose Hansen, producer of the Circle of Cells documentary.

"The mission of my film is to increase awareness of the simple, yet often misunderstood, process of stem cell donation; and bolster registration on the National Marrow Donor Program."

As Zoe Mandels, the owner of Company Store, said, "I am so excited to help Sara Rose get this information out there; her documentary will have such a positive impact on people helping people."

Rocktoberfest boasts many attractions, including:

"Be The Match" registration and information booth for potential stem cell donors.
Bavarian beer garden, bratwurst and pretzels open at 6:00 pm.

Four talented, local bands starting at 8:00 pm:

Tripp Rezac Band
Snaketopus
Cartoon Heart
Valerie Cavell

Silent auction and raffle prizes from Seattle businesses and artists.
You can follow any responses to this entry through the RSS 2.0 feed. Both comments and pings are currently closed.