Cine en el Parque returns to White Center; Cine en el Parque vuelve a White Center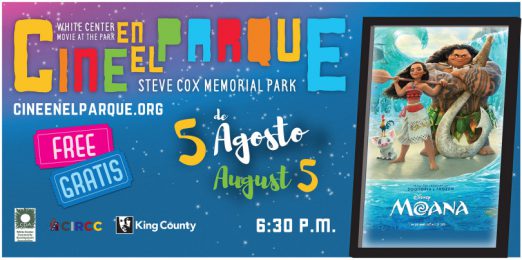 Cine en el Parque is back! One week from Friday, here's what's happening for this summer's special event:
Join King County for a special outdoor movie night in White Center. We'll be showing Moana – in Spanish with English subtitles – at Steve Cox Memorial Park on Saturday, August 5. This is a free event so bring your low-backed chairs, blankets, snacks, and enjoy a relaxed evening in the park. The movie will be projected onto a 40-foot tall inflatable movie screen so invite your friends and family – we've got space!

Seating opens at 6:30 pm, movie starts at dusk (around 8:30 pm). Lucha Libre Volcanica will be performing before the movie.
The park is at 1321 SW 102nd.
You can follow any responses to this entry through the RSS 2.0 feed. Both comments and pings are currently closed.