VIDEO: Pianos in the Parks, visiting White Center
Pianos in the Parks at Steve Cox Memorial Park today. East side of park. pic.twitter.com/SWyHaQzLhJ

— White Center Now (@whitecenternow) July 29, 2017
At Steve Cox Memorial Park today, the Pianos in the Parks series is visiting for the day, with guest performers. Still ahead this afternoon:
1:00 pm — Mercer Island Center for the Arts presents Russian Chamber Music Foundation of Seattle

2:30 pm — Random Acts of Art Song with Seattle Art Song Society

4:00 pm — Shenandoah Davis
UPDATE: We've added a short video clip above – the piano will be by the shelter on the east side of the park until 6:15, with the aforementioned schedule events, but otherwise available for open play. (added) Here's a closer look at the piano: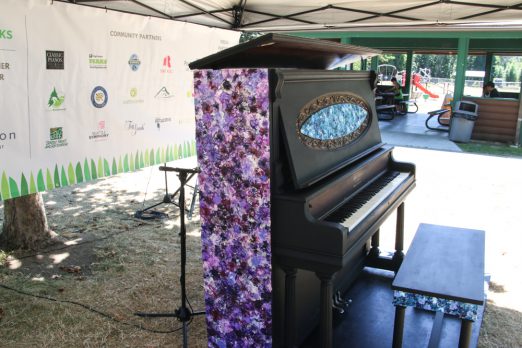 The art is by Eric Kolbe.
You can follow any responses to this entry through the RSS 2.0 feed. Both comments and pings are currently closed.