'Stories of Refugees and Immigrants' exhibit coming to Dubsea Coffee next month
An inspiring and emotional art show is on the way to White Center, per this announcement:
Art Gallery: Stories of Refugees and Immigrants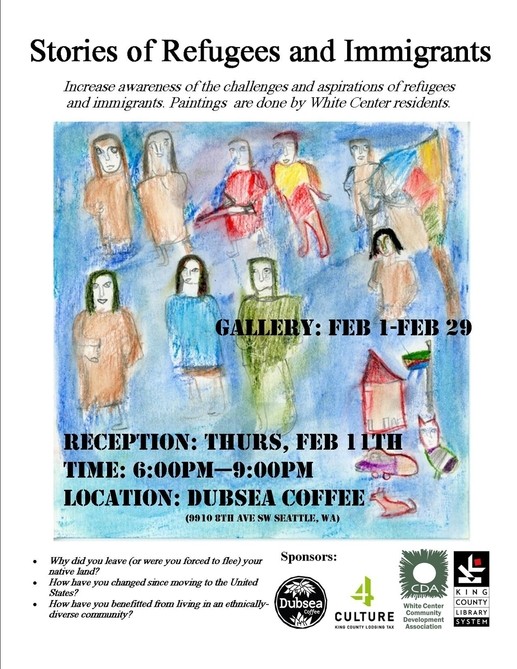 Dubsea Coffee
9910 8th Ave SW

Reception: February 11th 6-9PM, Gallery: February

The "visual stories" in this exhibit bear witness to the memories, struggles and dreams of refugees, asylees and immigrants of diverse ethnicities who now call White Center home. Their paintings illustrate that emotions conveyed and evoked by a single image can tell a story of a thousand words, build bridges of understanding and promote peaceful coexistence.

Thanks to a generous grant from 4Culture; the leadership of White Center Community Development Association, King County Library System and Network for Integrating New Americans; and the support of our visual storytelling workshop hosts at South Seattle College, New Futures Arbor Heights, King County Housing Authority Seola Gardens, Cascade Middle School and Highline College, we were able to offer a series of eight workshops to representatives of White Center's foreign-born communities.

Initially, workshop participants questioned why anyone would care about their stories. Yet the more they reflected on the often daunting challenges they had overcome, the more their self-confidence grew. Soon, they began to believe in the power of their (visual) voices. Their stories did matter. In fact, they could help those who would follow in their footsteps as well as those who continue to face human rights abuses and/or extreme poverty in their native lands.

This exhibit offers never-before-seen glimpses into the life-stories of White Center's refugees and immigrants. Drawn into their inner worlds, we receive clues to what it's like to leave—or be forced to flee—one's native land and rebuild one's life in a foreign country. After reflecting on the paintings and accompanying captions, you too will be moved to honor the courage, resilience and irrepressible hope of those who contributed, often bravely.

At the end of the exhibit you will find a brief feedback form. We would be grateful if you could share your reactions and offer any words of encouragement for the workshop participants.

Finally, we would like to thank Dubsea Coffee for hosting this exhibit through the end of February. Please join us 6:00-9:00 pm, Friday, February 11, for the reception, an opportunity to learn more about the workshops and hear from some of the participants.

Erika Berg
Workshop Facilitator and Guest Curator
You can follow any responses to this entry through the RSS 2.0 feed. Both comments and pings are currently closed.