POWER OUTAGE: More than 4,300 homes/businesses lose power early Sunday; 400+ still out as of mid-afternoon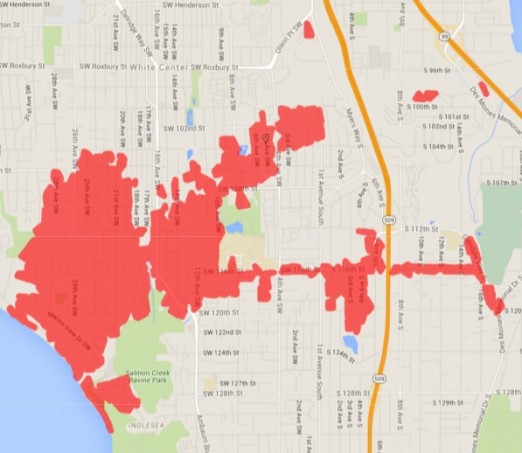 2:06 AM: That's the Seattle City Light map for an outage that started about 15 minutes ago, with reports of flashes and booms. It's affecting more than 4,300 homes and businesses so far, mostly south of downtown White Center, as you can see on the map. We're monitoring to see what caused it and when SCL hopes to get power restored – the estimates on the outage-info map are generally just guesstimates until they find the cause.
3:08 AM: Still no word on the cause but about one-third of those originally affected now have power back – it's now down to 2,695 customers.
3:42 PM: Most have been back on for some time but City Light spokesperson Scott Thomsen says about 10 percent of those originally affected remain out – he also updated us on the cause: "A tree fell into wires, which caused a fault current that was big enough that it damaged some of the wire. So crews have been working to replace the damaged wire. There are about 450 customers still out. We estimate having them back in service around 4:15 pm."
You can follow any responses to this entry through the RSS 2.0 feed. Both comments and pings are currently closed.