Investigation under way after man stabbed in White Center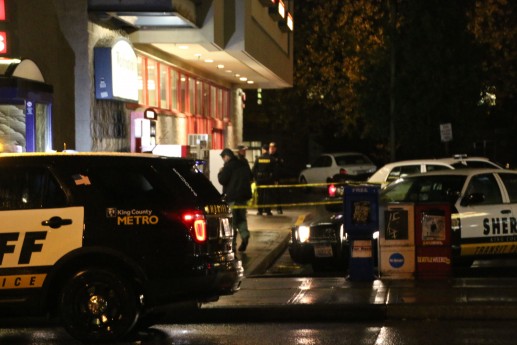 (Added: WCN photo)
ORIGINAL REPORT, SUNDAY: We've been checking out reports of a sizable law-enforcement presence near 15th and Roxbury, and this update just in from King County Sheriff's Office spokesperson Sgt. Cindi West has the details:
A 26 year old man was stabbed in White Center tonight after an altercation with three men.

Around 6:45 pm a King County Sheriff's Deputy was flagged down near 15th Ave and Roxbury St. by the man, who said he had just been stabbed. The man said he had been on a Metro bus with the three suspects and when he got off the bus at 15th Ave and Roxbury the suspects also exited the bus. A physical altercation ensued between the suspects and victim. During the altercation one of the suspects stabbed the victim in the back. All three suspects then fled on foot in an unknown direction.

When aid arrived they discovered the blade of the knife was still in the victim's back. The man was taken to Harborview with life-threatening injuries. At this time the only description of the suspects is they were Hispanic men, late teens to early 20's and at least one of them was wearing a blue bandana.

The King County Major Crimes Unit is handling the investigation.
If you have any information to help solve this case – call 911.
UPDATED TUESDAY: We've just learned that the victim is an employee of two West Seattle restaurants, and a crowdfunding drive is under way to help – more info here.
You can follow any responses to this entry through the RSS 2.0 feed. Both comments and pings are currently closed.