White Center business trick-or-treating on Halloween night!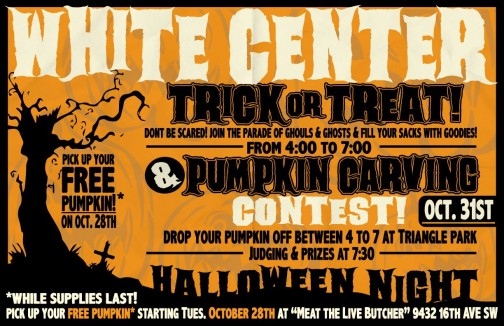 Tomorrow's the night to bring trick-or-treaters out to participating White Center businesses – the list of which continues to grow. This is the list, according to what Zippy's Giant Burgers has posted on Facebook over the past week-plus:
Triangle Pub
Meat the live Butcher
Big Al's
Proletariat
Rat City Records
Zippy's Giant Burgers
Fantastic Sams
International Halal
Decoraciones Ely
Uncle Mike's BBQ
Better Life
Herban Legends
Fashion Corner Store
Smoke Town
Samway Market
White Center Pho
L&L Jewelry
Luso Food & Wine
3.14 Bakery
Salon Y Peluqueria
Fashion Corner Store
Center Tools
Platinum Cutz
Delridge Bakery
Lee's Produce
West Seattle Halal
Crawfish House
Golden House Doughnuts & Deli
Tienda Super
Young's Restaurant
Samway Market
You can follow any responses to this entry through the RSS 2.0 feed. Both comments and pings are currently closed.