County's Greenbridge clinic to be spared, with new Planned Parenthood partnership plus City of Seattle $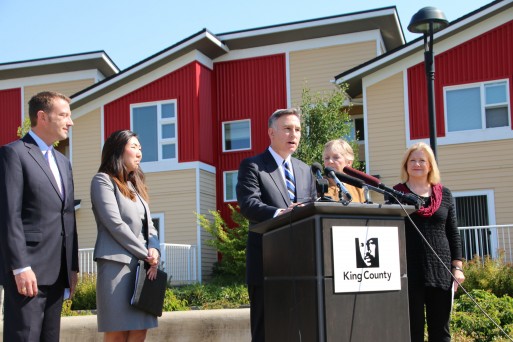 The Seattle-King County Public Health clinic in Greenbridge was facing the ax because of county-budget challenges – but it's been spared, if a plan announced this afternoon in White Center goes through. County Executive Dow Constantine, County Councilmember Joe McDermott, acting Public Health Director Patty Hayes, Seattle Deputy Mayor Hyeok Kim, and Planned Parenthood of the Great Northwest CEO Chris Charbonneau were there – as were we and other media – for the announcement detailed in this news release from the executive's office:
King County Executive Dow Constantine announced a partnership with the City of Seattle and Planned Parenthood to preserve critical health services for women, children, and families in White Center and surrounding areas.

"Through innovative partnerships like this we can keep providing the important health services our clients need, despite cuts to the federal and state funding that supported those services," said Executive Constantine. "I want to thank Mayor Murray and our partners at Planned Parenthood for helping us ensure that children are born healthy and able to reach their full potential."

Due to continual and sharp declines in the federal and state funds that support public health, the Public Health Center at Greenbridge was proposed by the department earlier this summer for closure.

Under the new partnership, Planned Parenthood of the Great Northwest will provide family planning services at the facility, while Public Health continues to provide Women, Infant and Children (WIC) and Maternity Support services for the next two years. Seattle Mayor Ed Murray has committed $400,000 in 2015 to help keep Greenbridge open and preserve a variety of public health services.

Key details of the partnership include:

*Relocation of Planned Parenthood from its current West Seattle clinic to Greenbridge, a King County Housing Authority development.

*Continuation of family planning services at Greenbridge, with Planned Parenthood as the service provider.

*Creation of a family planning "access committee" to provide countywide accountability and oversight, and assurance that all county residents maintain access to the full range of FDA-approved contraceptive methods; services for prevention and treatment of sexually-transmitted diseases for men and women; and screening for cervical cancer.

*Continued provision by Public Health of Maternity Support Services and WIC services at Greenbridge.

"Healthy women and healthy children are vital to a healthy Seattle – that's why my budget proposal commits $400,000 in City funds in 2015 to ensure Greenbridge continues to provide critical services such as prenatal care and the WIC program to all Seattle residents, in addition to several other important services," said Mayor Murray. "I look forward to working with the County Executive as we search for a new Director of Public Health who will institute sustainable improvements to our business management of vital public health programs."

The partnership with Planned Parenthood provides family planning services for all – regardless of ability to pay – at the same location where Public Health has served the White Center community for more than 50 years, primarily assisting women, mothers, and young children.

"As the leading family planning medical provider in the Pacific Northwest, Planned Parenthood of the Great Northwest is a natural fit to step in and ensure continuity of care in White Center, West Seattle, and surrounding communities," said Chris Charbonneau, CEO of Planned Parenthood of the Great Northwest. "Through this partnership with Public Health – Seattle & King County, we remain committed to providing high-quality, affordable reproductive health care for the women, men, and teens who need it most."

"As the transition of providers happens at Greenbridge public health center, Planned Parenthood is acutely focused on ensuring that residents in the community continue to receive the same level of comprehensive family planning services. Our goal is that no one falls through the cracks," added Charbonneau.

Serving the community

The service area of the White Center clinic extends to West Seattle, Burien, SeaTac, Tukwila, and Des Moines. Many of its services are delivered by a team that can include nurses, nutritionists, social workers, and community health workers, who also help clients find everything from housing to an obstetrician.

"White Center families are from many different backgrounds – Latino, Vietnamese, Cambodian, Somali, Samoan – and our Public Health staff helps them navigate important issues like nutrition, breastfeeding, and physical activity," said King County Councilmember Joe McDermott, who is also chair of the King County Board of Health. "These are all important components of families raising healthy babies and thriving young children."

"I've seen first-hand what a difference it makes when a Public Health nurse visits with an expecting mom and begins to help the mom and the rest of the household prepare a healthy environment for that new baby – so preserving these services wherever possible is a high priority," said Patty Hayes, Interim Director of Public Health – Seattle & King County.

Executive Constantine will present his 2015/2016 Executive Proposed Budget to the Metropolitan King County Council on Sept. 22, while continuing to work with cities and community partners to preserve critical public health services elsewhere in King County.
You can follow any responses to this entry through the RSS 2.0 feed. Both comments and pings are currently closed.