Another White Center and vicinity power outage, this time because of a crash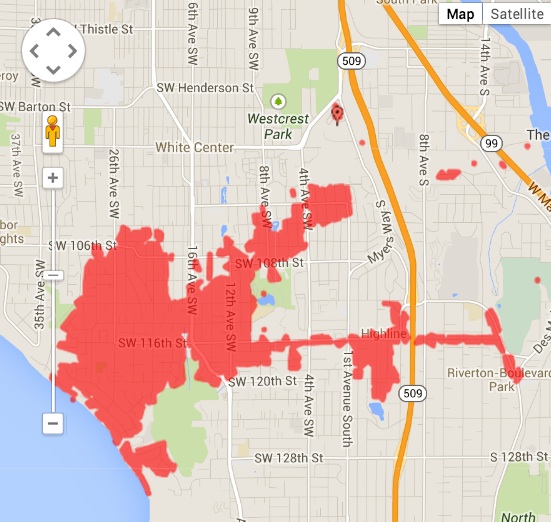 (Screengrab of City Light map added 9:49 pm – yes, it looks a lot like the one from early today!)
No power? You're not alone. We're getting reports from Shorewood and part of White Center that power is out again – as of this writing Seattle City Light still doesn't have the full scope of it on its map, but we have multiple reports it's linked to a crash. We're en route to the location to verify.
UPDATE: City Light also verifies the crash is to blame, at 10th/116th. We have just arrived in the area. Traffic signals are out at 16th/112th and 16th/116th, so if you have to drive in the area, please remember to treat nonfunctioning signals as four-way stops. 4,200 customers are without power, according to the customer hotline.
2ND UPDATE: Now it's on the City Light map, as of 9:40 pm. We also have learned from sheriff's deputies that 2 people were hurt in the crash and taken to the hospital. Too dangerous because of downed pole to get close, so we only have a photo of North Highline Fire District crew standing by:
3RD UPDATE: City Light says crews are routing power and should get it back to most "within the hour" (which would be, by 11 pm). And we're starting to hear from people who indeed are connected again.
1:35 AM: City Light map shows 1200+ customers still out of power. We've also learned that Seattle Police are investigating the crash that started it. We hope to learn a lot more about that later this morning.
You can follow any responses to this entry through the RSS 2.0 feed. Both comments and pings are currently closed.