Fire district's future in the spotlight @ North Highline Unincorporated Area Council next Thursday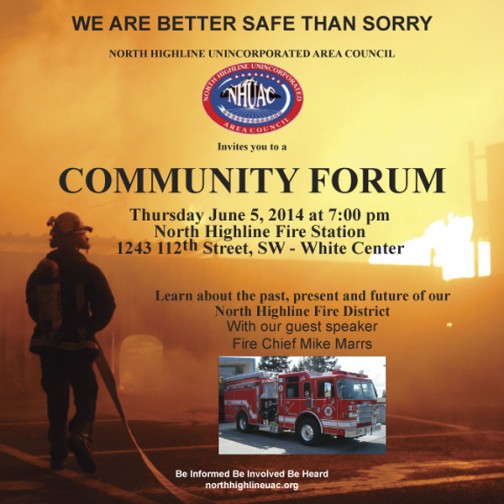 As the flyer shows, the next North Highline Unincorporated Area Council meeting is less than a week away. And it's a hot topic in more ways than one, as announced by NHUAC president Barbara Dobkin:
When: Thursday, June 5 – 7 pm
Where: North Highline Fire Station – 1243 112th Street SW

Please plan on joining us for an important community discussion regarding the future of our North Highline Fire District (NHFD). The residents of North Highline will have an opportunity to vote in August on a "Benefit Charge" to provide much needed support our NHFD. Fire Chief Mike Marrs will provide information on the past, present and future of fire district and what impact the Benefit Charge will have on property owners as well as the fire district.

We will also have our White Center Storefront Deputy BJ Myers on hand to provide updates on crime trends – this is a great time to share your concerns regarding community safety.
You can follow any responses to this entry through the RSS 2.0 feed. Both comments and pings are currently closed.