Followup: Hearing for Top Hat murder suspect; victim ID'd; investigators say he was shot after agreeing to record a fight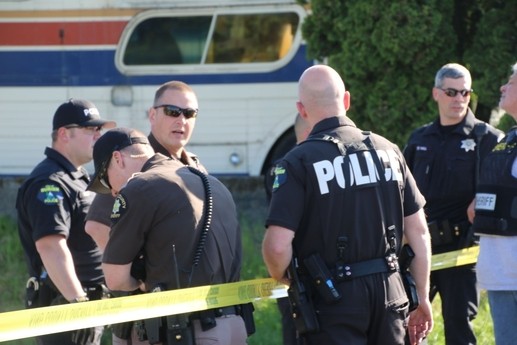 (WCN photo from Monday)
The man arrested in connection with Monday's deadly shooting in Top Hat remains jailed after a hearing today, and the King County Medical Examiner's Office has made the victim's name public: Excalibur Scott, 23 years old.
King County Prosecuting Attorney's Office spokesperson Dan Donohoe says the 28-year-old suspect did not appear at today's hearing in a jailhouse courtroom, but the judge ruled there is probable cause to hold him on suspicion of second-degree murder. According to documents presented in the case, based on police reports, the suspect was walking with Scott and another man when the suspect "became involved in an argument with a fourth male … over an alleged theft or burglary. (The suspect and the fourth man) agreed to fight over the allegation and (victim Scott) was to have reportedly recorded this fight." Before it began, the suspect was said to be in possession of a .22 caliber chrome Derringer handgun. During the fight, the documents say, Scott was shot in the chest and died at the scene. The suspect ran off and was arrested nearby. The investigation continues; a bail hearing for the suspect is set for tomorrow. Records do not show any felony convictions for him in this state, but he spent a day in jail last month related to a warrant for failing to appear in connection with an obstruction-of-justice case from last fall.
WEDNESDAY UPDATE: Bail for the suspect is now set at $750,000. We should find out about charges on Thursday.
You can follow any responses to this entry through the RSS 2.0 feed. Both comments and pings are currently closed.