Followup: Suspect arrested in White Center shooting death, had been awaiting burglary trial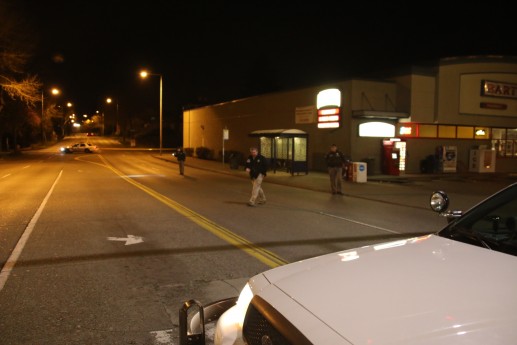 (Wednesday night WCN photo)
10:30 PM: Just in from the King County Sheriff's Office:
At about 3:40 P.M. on March 21st, King County Sheriff's Office Major Crimes detectives arrested an 18-year-old Seatac man in connection with the shooting death of a 17 year old in White Center on March 19, 2014. The detectives are not seeking any other suspects; however, they are encouraging additional witnesses of the shooting to come forward and contact the King County Sheriff's Office by calling (206) 296-3311.
ADDED 11:20 PM: Court and jail records show the suspect spent five days in the King County Jail last December for investigation of burglary; it appears burglary charges were filed last month. We won't be able to get details of that case until tomorrow, as the online court records are offline for several hours this time each night.
ADDED 9:04 AM SATURDAY: Court records are available now, and they show the suspect was awaiting trial after being charged in February with an October burglary in the 12200 block of 14th S. in Burien. The court documents say his prints were found at the scene, and that he had a record with a burglary charge while he was still a juvenile (he turned 18 last July), as well as a pending theft case from earlier this year.
You can follow any responses to this entry through the RSS 2.0 feed. Both comments and pings are currently closed.