Scenes from White Center Community Summit 2014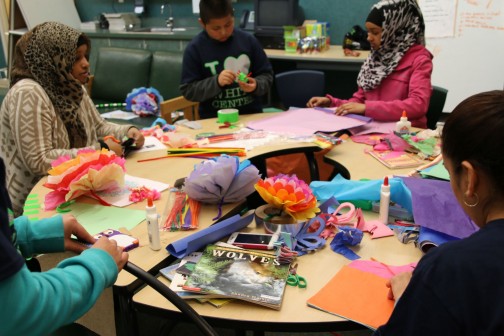 Saturday, they were making art; soon enough, they'll be making decisions. Youth of all ages were part of this year's White Center Community Summit, spanning four hours at Mount View Elementary School, presented by the White Center Community Development Association. We stopped in for a while during the second hour, peeking in on the first of two runs each for workshops that focused on topics including transportation…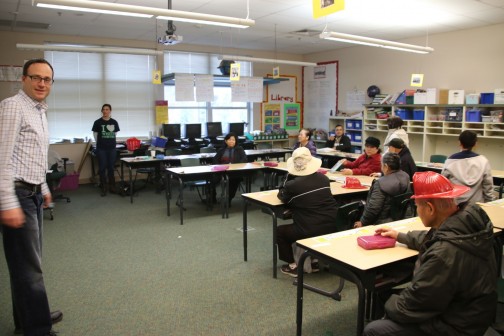 … connecting with community agencies/partners …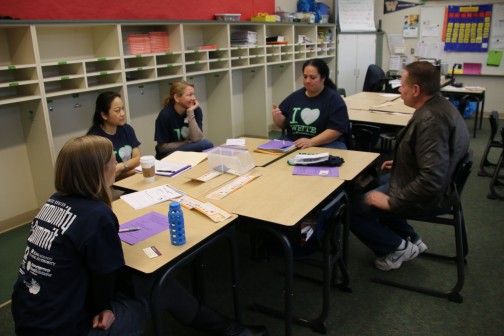 … and the perennial hot topic, annexation: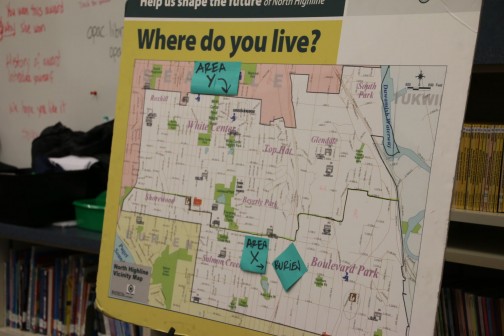 As noted in our earlier report, this was a lively discussion; those in the room included community leaders with varying views, and the hotly fought campaign over Burien's annexation proposal two years ago was brought up repeatedly. A King County representative (Karen Freeman from the County Executive's Office) led the discussion, not espousing a particular annexer – the area remains potentially annexable by Burien or Seattle – but saying "it's time to make a decision" because the county just can't keep supporting an urban area; the state experts urban areas will become part of cities, either creating their own (which isn't considered financially feasible for White Center) or becoming part of another. Freeman invited those interested in the topic, seeking accurate information, to contact her – here's her listing in the county directory.
Other workshop topics, according to the handout made available at the door: Housing help for those "underwater" or facing foreclosure; bilingual/biliterate education in Highline Public Schools; drug prevention/intervention; White Center "asset-mapping."
A much-anticipated part of each White Center Community Summit is the "I (heart) White Center" T-shirt, this time in Seahawks colors: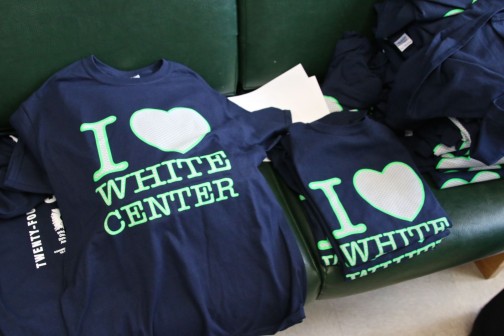 Everyone who registered for the summit got a T-shirt. The event also included a resource fair, featuring informational tables from a wide range of regional agencies and organizations – including some recruiting for jobs – and lunch.
You can follow any responses to this entry through the RSS 2.0 feed. Both comments and pings are currently closed.