White Center, West Seattle artists collaborate with Burien filmmaker on 'Ghostlight'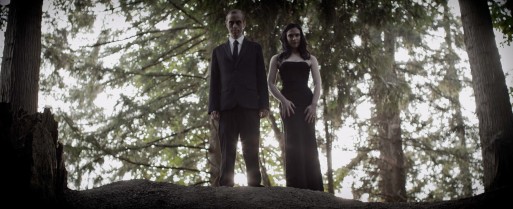 By Maggie Nicholson
Special to White Center Now
Burien filmmaker Jeff Ferrell's latest project has just come to fruition.
"Ghostlight," a horror film set in a historic theater, is the collaborative effort of local area actors, sound directors, and supervisors, including collaborators from White Center and West Seattle. Filming has been in progress since 2012, and the premiere run is under way.
The Historic Everett Theatre, where the movie was filmed, is the oldest active theater west of the Rocky Mountains. The theater has served as an opera house, vaudeville theater, stop-motion cinema and arts venue. In 1923, a fire devastated the interior and caused a partial collapse to the front wall. It was rebuilt in 1924, and reopened with 1,200 seats. When you step inside, the high walls slope to meet with a dome ceiling, interrupted by balconies whose railings flush with engravings.
"When you walk in," says local filmmaker Jeff Ferrell. "You can feel its history."
The street of the town where the theater is located gives no acknowledgment of such a past. The theater is nestled between an Irish sports bar and a bank. Ferrell first encountered the Everett Theatre while working on a 1920's-styled music video with his friend David Stedman. When Ferrell learned the theater was said to be haunted, he asked to spend the night there alone. He packed a bag, a camera, and a guitar.
"I brought my guitar to play songs on stage for the ghosts," says Ferrell, his wry-black eyes undulating with amusement.
Ferrell's movie "Ghostlight" was filmed along similar premises to his actual experience that night in the Everett Theatre: main character, Andrew, spends the night alone in an allegedly haunted theater, in order to receive a large sum of money.
Ferrell says that while the movie is fictional, there are many internal reflections of real events: some which occurred during his own stay within the historic walls, and some which occurred during the filming itself.
Once during production, Ferrell decided to stay overnight. The drive home was long, and the hour was late. Ferrell says he slept on a couch in the dressing room. Stirring, he awoke to see a woman slowly walking down the stairs into the room. Ferrell urged himself up. As his slumber-ridden eyes grew to focus, he realized the woman was not a woman, but a small girl. Once she had fully entered the room, he could see only the top of her head poking out from behind the couch.
Another incident was recorded on camera and discovered while reviewing footage. A scene is disturbed by a black shadow, which moves distinctly back and forth through the frame six times.
In the end, Ferrell decided to keep the mysterious shadow in the movie, deeming it one of the "happy accidents" that often accompany filming. The shadow occurs when Andrew is alone on stage reciting Shakespeare. Ferrell says for artistic creation to be successful, creators must be ready to change their plans when inspiration strikes.
In the movie, the ghosts in Everett Theatre are decidedly negative; Ferrell assures me that the true presence in the theater is positive.
Most contributors involved in the production of Ghostlight are local to this metro area: Jeff Ferrell, producer, writer and director from Burien; star Brian Sutherland plays Andrew; West Seattle star Lisa Coronado plays Andrew's wife Mira; Jim Charleston, production supervisor from Burien; Jason Alberts, sound director in Ballard; and Russell Hodgkinson, who plays the caretaker, lives in White Center.
Ferrell says he couldn't have been happier with the final product. Credit, he says, goes to the cast and crew.
"It's very important to have a team of collaborators who all want to contribute to the realization of the same dream," says Ferrell.
Ferrell says he's been drawn to the dark side of life since childhood. He and his grandmother spent many nights watching classic horror movies together.
"I don't know how many people in the world can say their grandma introduced them to horror movies," laughs Ferrell. "I think everyone is attracted to ghost stories because they address the universal fear and wonder of death. It's an ancient human desire we have. We like to tell stories and we like to be scared."
I was lucky enough to view the movie pre-screening, and I can't recommend it enough: it is cohesive, horrific, emotional and aptly-directed. The movie runs through tonight at the Tin Theatre in Burien. Then, there is a special Halloween viewing at the theater that both inspired the movie and served as a set: the Everett Theatre. This showing of the film is a fundraiser. Profits go to the Everett Theatre to help it stay on its ancient feet.
Screening Dates and Addresses for 'Ghostlight':
Tonight at the Tin Theater, Burien
923 SW 152nd St.
October 21, 2013, at the Grand Illusion Cinema, Seattle
1403 NE 50th St.
October 24-25, 2013, at the Clinton Street Theater, Portland
2522 SE Clinton Street, Portland
October 31, 2013, at the Historic Everett Theater, Everett, WA:
2911 Colby Ave
You can follow any responses to this entry through the RSS 2.0 feed. Both comments and pings are currently closed.