North Highline fire crew gets kudos for helping 'distraught grandma'
This photo and accompanying report appeared today in the WCN inbox: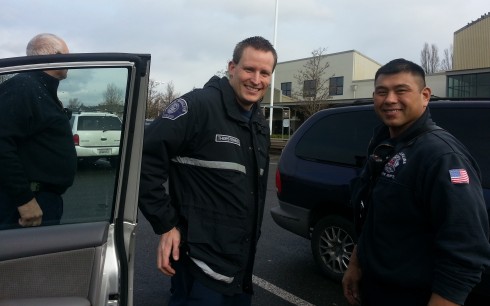 I was in White Center recently to welcome my sixth grandchild into the world. During this time I took the older kids on errands etc. On one trip to the Safeway I accidentally locked my 2-year-old granddaughter in the van. I was totally distraught and had someone call the police to help. During the time I was waiting on the police a firetruck answered a call to this Safeway. After the firemen/emt's completed their initial call they noticed the distraught grandma in the green sweater standing by her van. They all came over, brought tools and after about 30 minutes were able to unlock my van. While they were working on the lock they were very positive and friendly. No one made me feel bad or commented on the situation I had created. These men came to my rescue and did it with grace and professionalism even when I was not the original call.

I have attached a picture of just two of the gentlemen but all of them need to get credit for the act of kindness they showed to the distraught grandma in the green sweater in the silver van. A big thank you is well deserved.

J.D. Curry
Odessa, TX
Good going, North Highline Fire District!
You can follow any responses to this entry through the RSS 2.0 feed. Both comments and pings are currently closed.