Seattle Police helping KCSO with White Center investigation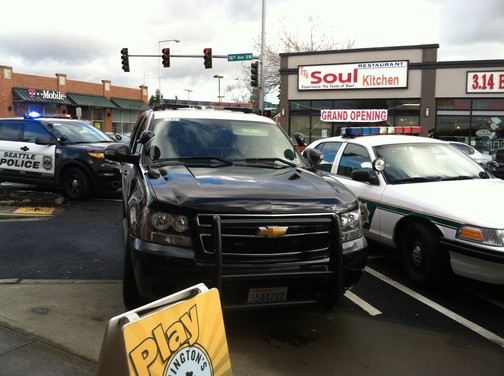 (SPD, KCSO cars near the scene)
Thanks to those who tipped us about Seattle Police out in force on the White Center side of 16th and Roxbury – and beyond. They're involved right now with a robbery investigation involving the gold-buying store on the southwest corner of the intersection. Though that store is on the county side, the call apparently came first to SPD, according to King County Sheriff's Office spokesperson Sgt. Cindi West, who says this is all still unfolding, so full details won't be available till later. A vehicle description went out and SPD wound up involved with stopping that vehicle in Burien, around 139th and Ambaum, where, Sgt. West says, at least two people are in custody. More later.
You can follow any responses to this entry through the RSS 2.0 feed. Both comments and pings are currently closed.