White Center Chamber of Commerce honors White Center heroes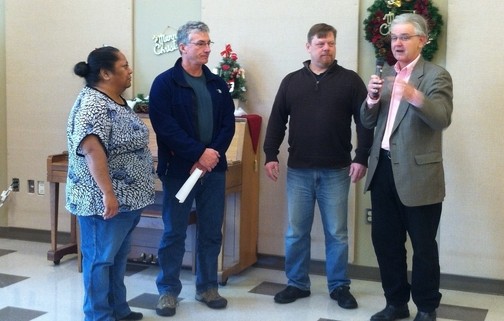 Tim Healy, second from left, is one of the White Center heroes honored on Tuesday at the WC Chamber of Commerce's annual holiday luncheon at the Salvation Army Center. (With him in our photo are, from left, Sili Savusa of the White Center Community Development Association, and the Chamber's Mac McElroy and Mark Ufkes.) His longtime community service sparked the honor; the others celebrated at the event were feted for their contributions to public art in White Center: Michael Todd Harrison, Xavier Lopez Jr., and Amanda Schmidt, adviser to the Evergreen Art Club. You'll see the artist honorees in our video recording of most of the ceremony:
To find the White Center murals, follow the map on the Chamber's website.
You can follow any responses to this entry through the RSS 2.0 feed. Both comments and pings are currently closed.