Burien annexation or not? 'No' leading in first results on Election Night 2012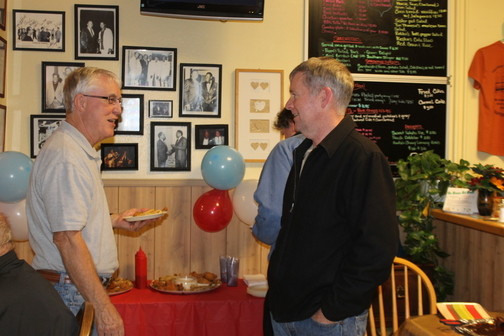 (Annexation supporter Gill Loring, left, with Burien City Manager Mike Martin at pro-annexation party, pre-results)
8:23 PM: King County has just released its first round of results – the only round it will release tonight, with the next update due late tomorrow afternoon. For the annexation measure – should most of what's left of unincorporated North Highline annex to Burien or not – the early results are 63 percent against annexation, 36 percent for. See them on the county site here.
Other notes of interest – Renton has an annexation measure which also is behind; the King County Sheriff's Race has John Urquhart ahead of appointed incumbent Steve Strachan.
WCN was at the pro-annexation gathering when the first results came in; supporter Barbara Dobkin, and Christine Waldman (also on NHUAC), will say only so far that it's a "tough election."
9:25 PM: Here are the exact numbers, which stand till tomorrow's count:
Against annexation: 2,085
For annexation: 1,195
In the sheriff's race: Urquhart 254,600 (57 percent), Strachan 187,491 (42 percent).
You can follow any responses to this entry through the RSS 2.0 feed. Both comments and pings are currently closed.