White Center Art Walk, October 2012 edition – tonight!
We don't have a full venue list but we have, for starters, this announcement from Center Studio via Facebook:
Sarah Barrick be holding a donation-based bake sale this evening at Center Studio during White Center's Art Walk from 6-9 pm that will benefit Feed Washington! Stop by to enjoy a sweet treat, some fresh new art and to browse a brand new batch of my sacred mandala pendants. Any purchase you make, brownies, art or jewelry will all help to feed hungry children in Washington state!
Wander the rest of the WC business district tonight and see what else you find – 6 to 9 pm.
ADDED 1:16 PM: Rock during the Art Walk, tonight at Zippy's Giant Burgers: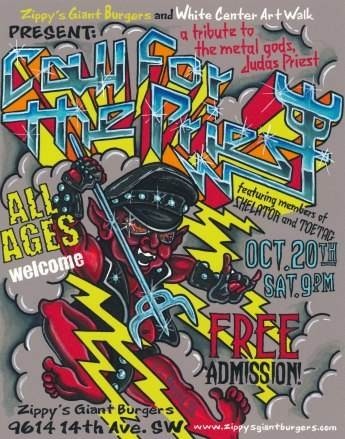 You can follow any responses to this entry through the RSS 2.0 feed. Both comments and pings are currently closed.