Election 2012: With days till voting, annexation opponents take a YouTube turn
King County says ballots go in the mail this Wednesday – which means voting will begin on North Highline annexation as well as many other issues and races. The final City of Burien-presented annexation-information forum is in White Center this Thursday (6 pm October 18th at Cascade Middle School). Annexation opponents, meantime, have taken their campaign to YouTube. A series of videos has turned up, including clips promoted by commenters including the URLs in comments on the WCN report about the October 4th North Highline Unincorporated Area Council forum.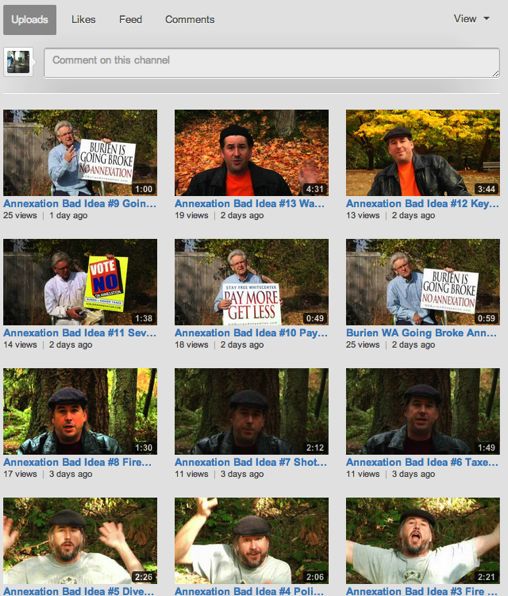 Cross-referencing back to YT, the channel where these were posted (partial screengrab above) features 14 anti-annexation videos as of this writing, 10 featuring White Center resident Pat LeMoine, four featuring White Center resident Mark Ufkes, who in two of them holds a sign reading BURIEN IS GOING BROKE. In one of LeMoine's videos, he calls Burien "unpatriotic" with a "commie, fascist, pinko attitude" for having a fireworks ban (as do 60 other cities around the state, including two of Burien's neighbors, Seattle and Tukwila); he also takes on taxes, police, and fire services, as well as saying he's concerned that Burien is not prepared to handle White Center's ethnic diversity.
P.S. The King County Voters' Guide page for the North Highline annexation measure, with pro/con statements and rebuttals as well as a link to the full text of the resolution sending annexation to the ballot, is here.
You can follow any responses to this entry through the RSS 2.0 feed. Both comments and pings are currently closed.