Open-mike event returns to White Center on July 27th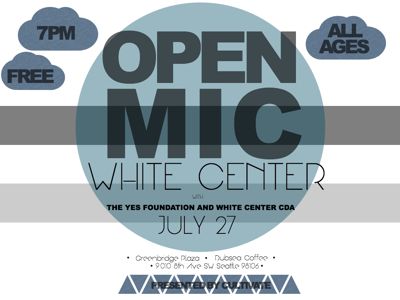 Fun event ahead – for participants as well as spectators! Here's the official announcement:
On July 27, we will be hosting the 2nd annual Cultivate's White Center Outdoor Open Mic.

The open mic will be a joint effort by Cultivate, The White Center CDA, The YES Foundation and Dubsea Coffee. It's an open mic but more of a concert feel with established local artists showcasing their talents for the White Center Community.

It's a fun free event for families to enjoy in our wonderful community of White Center. It's also a great opportunity to showcase local talent and celebrate the community of White Center. The event will be on July 27th at 7 pm, Greenbridge Plaza – 9010 8th Ave SW.
You can follow any responses to this entry through the RSS 2.0 feed. Both comments and pings are currently closed.