Update: King County sergeant out of the hospital after Top Hat crash
(Photos by WCN editor Tracy Record)
FIRST REPORT, 4:50 AM: 1st Avenue South is closed at 112th in Top Hat (map) as King County Sheriff's Office investigators work to sort out a two-car crash involving a KCSO deputy. TV crews got there before we did, so you're likely to see live coverage during the morning newscasts; KING 5 reports that both the deputy and the other car's driver – who they say tried to flee the scene – were taken to Harborview Medical Center. While we were at the scene, investigators from the Major Accident Response and Reconstruction unit were using this SUV for high-speed, sudden-braking investigatory runs: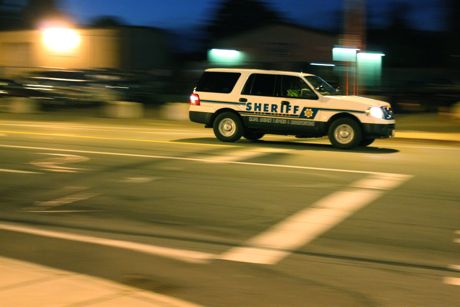 We hope to get an update on the deputy's condition a bit later this morning.
5:33 AM UPDATE: Jake Whittenberg from KING reports via Twitter that 1st S. has reopened. The damaged cars were towed around 5.
4:23 PM UPDATE: KCSO spokesperson Sgt. Cindi West says the injured deputy is a sergeant, and that he was southbound on 1st Avenue South when the northbound suspect "made an abrupt left turn in front of our sergeant," who suffered a concussion and cut to the head, and was released from the hospital after treatment including stitches. She confirms the suspect was booked for investigation of vehicular assault, and adds, "Alcohol was involved."
You can follow any responses to this entry through the RSS 2.0 feed. Both comments and pings are currently closed.