Seen at downtown White Center's 3.14 Bakery on Pi(e) Day …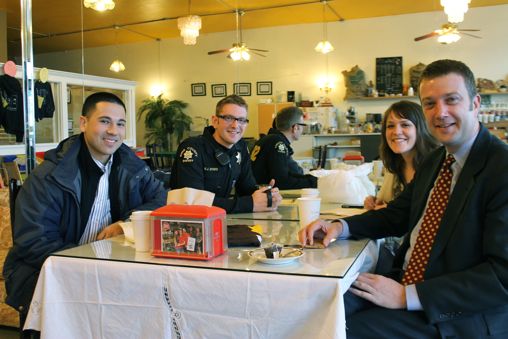 On our way back from a story to the east, we stopped at 3.14 Bakery in downtown White Center to see how Pi(e) Day (3.14!) was going – and found a table full of distinguished gatherers who had chosen 3.14 for a meeting. From left, if you don't recognize them all, that's Mikel Davila from White Center Community Development Association, King County Sheriff's Office Storefront Deputy BJ Myers, Michelle Allison from King County Councilmember Joe McDermott's team, and CM McDermott himself (who pointed out they had already purchased boxed pie to take back to the office downtown). As for us – decided not to go with the pie, but the triple-chocolate cake ball is to die for.
You can follow any responses to this entry through the RSS 2.0 feed. Both comments and pings are currently closed.