White Center, underground: Artists' skate pickup beneath Southgate Roller Rink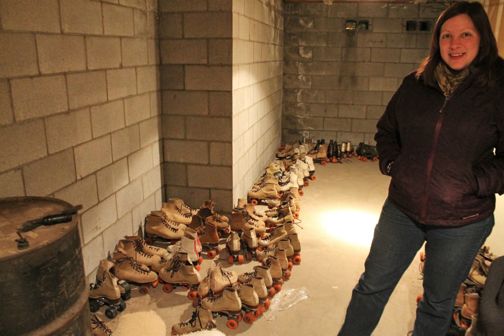 Today's old skates, tomorrow's art. Well – May's art. Tonight, Amanda from the White Center Art Walk presided in the basement of Southgate Roller Rink as artists came by to pick up skates to turn into the "dynamic roller-skate sculptures" that WCAW is seeking. The artists' marching – um, rolling – orders are:
– Max out your design at 4′ wide x 2′ tall
– Utilize up to (5) pairs or (10) skates
– Make it wall mountable
– Like the Native Americans with the Buffalo hunt, include as much of the roller skate as possible (ie; the boot, truck and wheels). A surplus of clay wheels are also available for use.
– Sculptures must be completed by May 9th
They'll be spotlighted during the May 19th White Center Art Walk.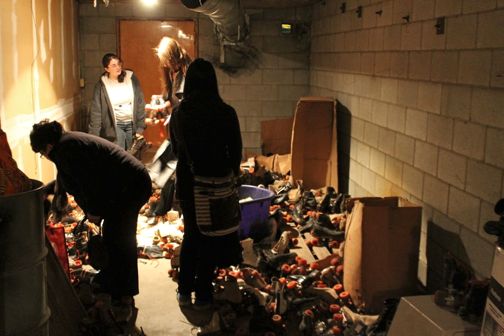 Five artists picked up their materials while we were there this evening.
You can follow any responses to this entry through the RSS 2.0 feed. Both comments and pings are currently closed.