Update: King County Sheriff's Office investigates robbery at White Center Pawn Pros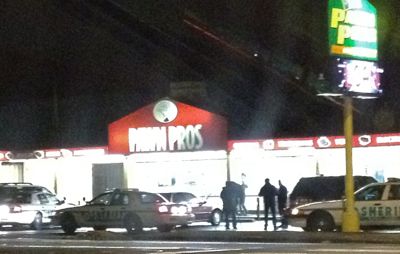 9:16 PM: Thanks to those who tipped us about a major King County Sheriff's Office presence just south of the White Center business district. Deputies were at Pawn Pros, where an employee's spouse tells us the store was robbed tonight for the second time in less than two months, reportedly by six robbers, armed with "guns and bats." No word of arrests so far.
10:09 PM: Channel 4 quotes KCSO as saying four men robbed the store, takeover style, and that they're reviewing surveillance video. The TV account says one employee was hurt; our tipster's spouse "got hit with (a) bat on the shoulder," per the Twitter report.
12:49 PM WEDNESDAY: King County Sheriff's Office spokesperson Sgt. Cindi West says detectives are still working on getting that surveillance video. The only descriptions of the four robbers, she says, are that they were "black males" who got away on foot, with "an unknown amount of jewelry and cash." At least one had a gun, the others had baseball bats, and they ordered everyone in the shop to get down on the ground.
You can follow any responses to this entry through the RSS 2.0 feed. Both comments and pings are currently closed.