White Center Snow Watch: Thursday closures/changes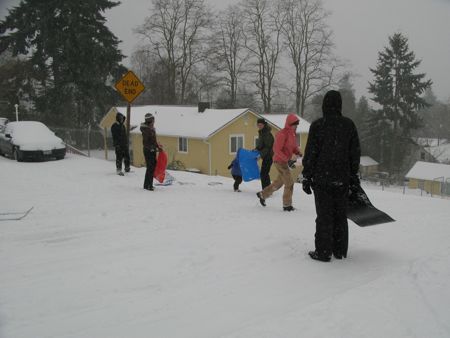 (White Center snow fun photo courtesy of Gill)
UPDATED THURSDAY MORNING:
Highline Public Schools have now announced they'll be closed Thursday too.
ADDED 8:07 PM: Holy Family School and West Seattle Montessori are closed too.
ADDED THURSDAY 8:29 AM: White Center Food Bank closed.
Most trash pickups around the region are also canceled for today. And King County government is opening late, 10 am.
ADDED THURSDAY 10:29 AM: Via Facebook, we see the White Center CDA office is closed.
We also have received word that the White Center Kiwanis's Key Club dinner tonight is postponed – since the school's closed! We'll update the calendar listing with the new date (note – that's 6:30 pm February 16th).
Any other closures/changes, please let us know – whitecenternow@gmail.com or you can call our 24-hour phone line (at West Seattle Blog HQ), 206-293-6302.
You can follow any responses to this entry through the RSS 2.0 feed. Both comments and pings are currently closed.