White Center's new storefront Deputy "BJ" Myers is on the job – and on foot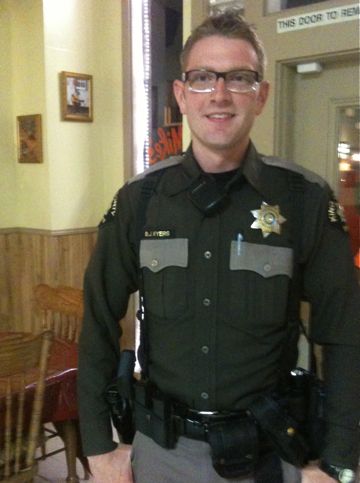 Story and photos by Deanie Schwarz
Reporting for White Center Now
On the first day on his new job as King County Sheriff's Office Storefront Deputy for White Center, Deputy Benjamin "BJ" Myers joined the White Center Community Development Association Business Mixer Tuesday night to meet a few of the businesspeople in the community.
"I don't come in to this job with an agenda, " he told the group, "I come here to see what the business interests are, to see what the concerns of the people who live here are, and then start prioritizing what this job is going to be about after I learn a little bit from you all."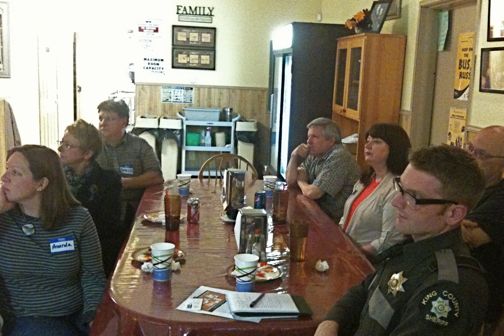 He suggested that folks e-mail him, call him or stop by the storefront some time when he is around (Deputy Myers' current e-mail info is available below).
Deputy Myers' normal days will be Tuesday through Friday. Though there will be some flexibility, most of the hours will be in the afternoons and evenings, but if there is something he needs to be around earlier or later for, perhaps such as the bars closing, then he might be out later.
Deputy Myers told WCN that his new role, just announced last week, this is his first non-patrol assignment. His most recent assignment for the past two-and-a-half years or so has been as a patrol officer responding to 911 calls for the city of Burien as a contract KCSO deputy. Before that, he worked the unincorporated area on patrol, "so I kind of bounced around from White Center to the Skyway area," he said.
"A couple of years ago, I got to do a little bit of work with Sylvester Middle School, " he explained, "teaching gang awareness which allowed me to have more community involvement than simply responding to 911 calls and patrol work. I really enjoyed that. … That [experience] is one of the many things that prompted my interest in this job. I am here because I am interested in doing things that are more community involved than patrol was."
"I am going to be walking around quite a bit," Deputy Myers told the group, "but those of you who aren't right here in the business district, let me know and I'll try to stop by your shop sometime and we can talk and I can hear from you what you want my position to be about."
Deputy Myers can be contacted via e-mail at benjamin.myers@kingcounty.gov.
You can follow any responses to this entry through the RSS 2.0 feed. Both comments and pings are currently closed.