White Center Jubilee Days 2011 getting closer! Here's the latest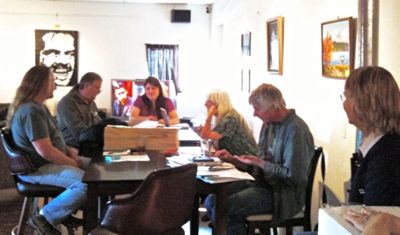 Story and photo by Deanie Schwarz
Reporting for White Center Now
Organizers met at Big Al Brewing Wednesday evening, working hard to pull together their "to do" lists for the 88th year of the Jubilee Days celebration in White Center, expected to draw 25,000 people.
Organizers told WCN that as they continue to dial in the remaining details, posters and the official program (with discounts and coupons for local businesses, by the way) have been distributed around the business district and beyond. Keep an eye out and pick one up for the event-by-event and daily schedules you'll want to have to plan.
The next upcoming event is the Garden Tour, on Saturday, July 9. It begins in the parking lot at McLendon Hardware (10210 16th SW) at 9 am. There will be tour packets to be picked up for the free, 10-garden tour. McLendon is the sponsor for the event and a popular Treasure Hunt will be held again: Find items from a list at each garden, identify them all, and win a $25 McLendon gift card. If folks have questions about the garden tour, the person to contact is Heather at gardenwalk@jubileedays.org or call 206-920-4144.
The members told WCN that the funding and operating of Jubilee Days is dependent on business sponsorship and while many have already taken the opportunity to promote civic pride and positive marketing for their businesses, sponsorship, support opportunities remain.
There are a multitude of sponsorship levels to participate at, but we were also told they are still seeking sponsorship for the much-anticipated July 13 fireworks display at Steve Cox Memorial Park . They say it is 20-minutes of solid spectacle, so if you have an interest in getting a lot of bang for your sponsorship buck, this might be the event for your business or organization! The Jubilee point person to answer any questions you might have if you are interested in getting in on the annual sponsorship tradition at any level is Peter Mort, peterjmort@gmail.com or 204-0661.
White Center Jubilee Days Officers and Board Members for 2011 are President Michael McGrath, Vice President Julie Hiatt, Secretary Karen Paden and Treasurer Stephen Lamphear. Lots of festival information can be found at jubileedays.org.
You can follow any responses to this entry through the RSS 2.0 feed. Both comments and pings are currently closed.