North Highline Unincorporated Area Council hears from Duwamish River Cleanup Coalition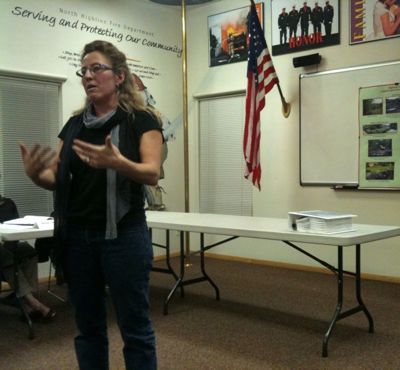 Now that the mega-document proposing possible Duwamish River cleanup strategies is out, the Duwamish River Cleanup Coalition is making the rounds of community groups, including North Highline Unincorporated Area Council last night. BJ Cummings brought a presentation including background on the river, the pollution, and what's being proposed, plus how you can have a say. Her emphasis is on the need for everyone to comment on the cleanup proposals – all of which have one big flaw, in DRCC's view: They don't outline what will be done to stem the current flow of pollutants into the river; they only address pollution that's there now. You are invited to upcoming workshops and meetings to explain the report – here's the announcement DRCC's been sending around:
The Duwamish River Superfund Cleanup "Alternatives" have been released this month for public comment and review.

View or download the 8-page EPA Fact Sheet of the Draft Duwamish River Cleanup Alternatives (Feasibility Study). If you'd like to peruse the whole cleanup document, please start with the 42-page Executive Summary!

DRCC/TAG Technical Advisors have completed a preliminary assessment of the study, which is available by clicking here to view on our web site. A summary is below:

* None of the cleanup alternatives protect human health
* Environmental Justice analysis needed
* Telling people not to fish is not a substitute for cleanup
* Alternatives present tough choices

YOUR voice is needed to help protect Human Health and the Environment
The community is invited to help develop alternatives that protect human health and the environment at these upcoming interactive workshops. Workshops include an overview of the proposed cleanup alternatives and a roundtable discussion and activities with your Duwamish valley neighbors.

Attend one of these workshops to make your voice heard!

Monday, November 8, 2010, 11:30-2:30pm – Brownbag Lunch
Youngstown Cultural Arts Center: 4408 Delridge Way SW ~ Coffee and dessert provided! Please RSVP to: contact@duwamishcleanup. org

Tuesday, November 9, 2010, 5:30-7:00pm: Prior to SPNA monthly meeting.
South Park Neighborhood Association: 8201 10th Ave South ~ Food Provided!
Please RSVP to: contact@duwamishcleanup. org

Monday, November 15, 2010, 5:30-7:00pm: Prior to GCC monthly meeting. Coliman Restaurant, Georgetown: 6932 Carleton Ave S @E. Marginal Way S. ~ Food Provided!

Please RSVP to: contact@duwamishcleanup.org
(Meantime, more news still to come from last night's NHUAC meeting.)
Tags: North Highline Unincorporated Area Council
You can follow any responses to this entry through the RSS 2.0 feed. Both comments and pings are currently closed.