Update: Day 1 for 3.14 Bakery & Coffee in White Center
Story and photos by Deanie Schwarz
Reporting for White Center Now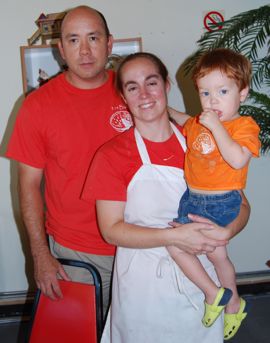 Jessica Haury offhandedly mentioned to a family gathering last Thanksgiving that she might like to have a bakery "someday," she had no idea that "someday" would arrive soon, well before the family's next Thanksgiving holiday.
She and her family have been diligently converting favorite recipes for commercial applications for months as they prepared for 3.14 Bakery & Coffee's debut on Saturday morning, Grand Opening Day for her shop at 9602 16th SW in the core business district of White Center.
Opening right on schedule at 9:00 AM Saturday morning with son Aden at foot, Jessica had her first customers five minutes later, perusing the fruit breads, bagels, pound cakes and, yes, the pies. The number in the name of the bakery is a mathematical constant, a symbol of a "never-ending number" which is spelled "pi" and pronounced "pie". So, the play on words announces just one of the specialties of the house she has been developing for her menu, the two-crusted pies. Today's pie choices were apple and peach, each sparkling with a dusting of sugar on top.
Three types of cinnamon rolls appeared, of which Jessica says the strawberry is the most decadent. Fruit loaves (raspberry or banana), cookies (chocolate chip and peanut butter), and buttons (her version of muffin tops with seasonal fruits) arrived in the display case with the help of her sole full-time employee, an experienced culinary worker. "We call them buttons because muffin tops have a different meaning these days. Buttons are cuter."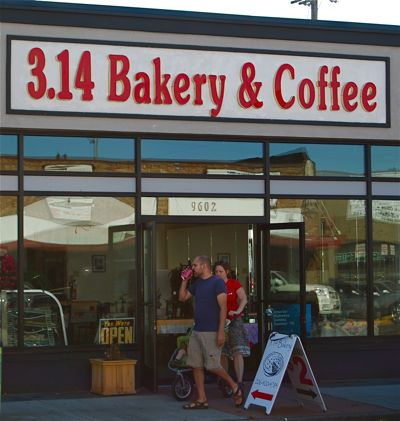 Employed full-time as a fifth and sixth-grade teacher at Fairwood Elementary in the Kent School District. Jessica now thinks that opening this bakery and coffee shop (serving Caffé Umbria coffee) with her husband/partner David, a Safeway employee, is largely because of her mom and dad. She learned how to bake in childhood, at her mother's side. Buying this business from the retiring previous owner, Sokha, and re-opening the coffee shop in the very neighborhood she has lived in since she was four years old, now seems to her to have been a little inevitable.
"I had talked to other people, in particular a cake decorator I know who has always wanted to do something like this," she said. "But her parents would tell her things like 'Why would you give up a good job to do all that? ' And my parents [said] 'go for it'. So, I feel really blessed and lucky that I have parents that were supportive, emotionally and financially and in all ways, really."
Both her mother and father have been operating businesses in White Center for the better part of Jessica's life, and are her entrepreneurial role models. Her mother, Jeri Finch has worked as a real-estate broker for S&L Realty as well as owner/operator of an early education school, "Learning Way School and Day Care" while her father, Brian Finch, operates his own contractor/handyman business called Good & Handy.
She's made some changes to the large, airy ex-Sokha space. Tables are set to honor her connection to her family. The field of cheery, mismatched vintage tablecloths belonged to her grandmother; Jessica is glad to be able to display them and put them to good use. Her sister replaced artificial flowers in each of the green glass vases with live, long-stemmed ivory roses in honor of the opening day. The south wall of the high-ceiling space is covered with full wall mirrors reflecting daylight — they were installed in the '80s, when the space was a kickboxing studio.
Her father, the handyman, says he's the "slave labor" and lovingly built office space into the back of the store. The office wall is adjacent to an area set aside for kids, with scores of toys, art supplies and educational materials gleaned with the well-informed eye of an experienced educator. A huge round table is set up to accommodate the future Picassos and Kahlos, who are as welcome at 3.14 as their coffee-drinking adult chaperones.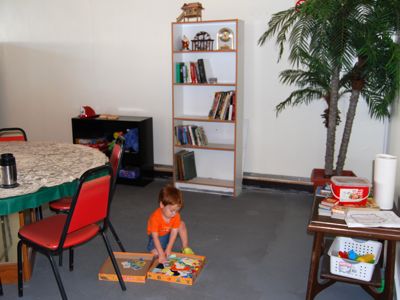 "In college, I started to figure out how I really enjoyed 'my baking therapy'," she says. "Then I was dating my now-husband, David. When we would go to potlucks and dinner parties, I would always bring desserts. One time I was invited to bring dessert before my husband was invited to the party." So that experience gave her a vote of confidence to pursue her therapeutic passion.
Jessica recalls saying something else offhandedly to friends at some point in the not-too-distant past, while mulling other careers after a lousy day of teaching. She thought maybe being a barista might be a decent career alternative if she ever needed it. Fast-forward to the present, with her perspective as new baker and barista on opening day, and Jessica says, "Maybe, be careful what you put out into the universe, because here I am."
Tags: 3.14 Bakery, Caffe Umbria
You can follow any responses to this entry through the RSS 2.0 feed. Both comments and pings are currently closed.