Vandalism leads to closure of new 98th SW corridor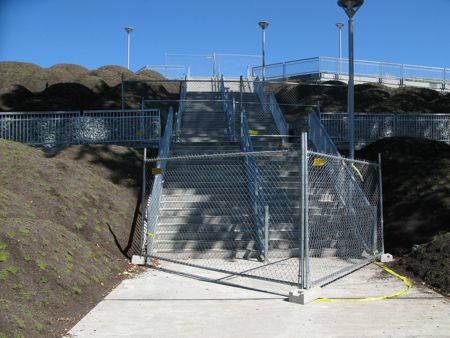 (Photos courtesy Gill, added Saturday night)
News release received this afternoon from King County:
Vandals cause unsafe conditions, force White Center SW 98th Street Corridor closure
 
A recently completed pedestrian corridor connecting new homes and a growing commercial area in the White Center neighborhood has been so badly vandalized that King County must close it for safety reasons.
 

Vandals ripped out the stainless steel railing and knocked out lights along the 98th Street Corridor, which was just opened in mid July. The corridor's steep stairway is unsafe for use at night without the lights and handrails, however the ADA-accessible ramp that runs through the corridor remains open. The area was also vandalized with graffiti.
 
The 98th Street Corridor sits between the new Greenbridge community and the Central Business District along Southwest 98th Street. The corridor was developed as a result of the Land Use, Transportation, Air Quality and Health Study, which found that people who live in walkable communities are healthier.
 
King County collaborated with the White Center Community Development Association on the project. More information is available at http://www.kingcounty.gov/exec/whitecenter.aspx
You can follow any responses to this entry through the RSS 2.0 feed. Both comments and pings are currently closed.