Big Al Brewing celebrates 2nd anniversary, looks ahead
Story and photos by Deanie Schwarz
Reporting for White Center Now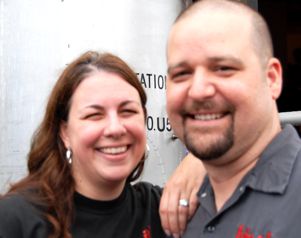 Noelle and Alejandro ("Al") Brown of Renton arrived in White Center in August of 2008 with such a crystal-clear vision of what they wanted to do, how they wanted to do it and over what period of time it was to be done, that it is little wonder that on this second anniversary of their Big Al Brewing (9832 14th SW), the entrepreneurs have not only met their own expectations but exceeded those of the most discerning regional connoisseurs of adeptly crafted microbrews.
As if successfully executing their business plan were not reason enough for celebratory events this past weekend, they also learned this past week that Seattle Weekly named Big Al Brewing as the Staff Pick for Best Microbrewery in Seattle 2010 and Staff Pick for Best Guide to Home Brewing in Seattle 2010.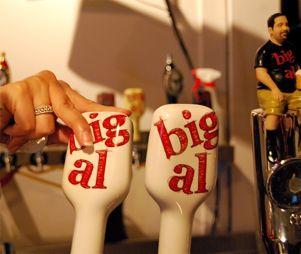 So, the raising of glasses and some special events were scheduled this weekend to honor the customer and the crafter both. Home-brewing devotees, the brewery's team of employees, loyal and newly converted customers, and a few collaborating close-by White Center businesses arrived for some fun in a steady stream all weekend.
Saturday features included Dante's Hot Dog Stand (one of his six carts serving the famous cream cheese injected hot dog) and Full Tilt Ice Cream was scheduled to pay a visit.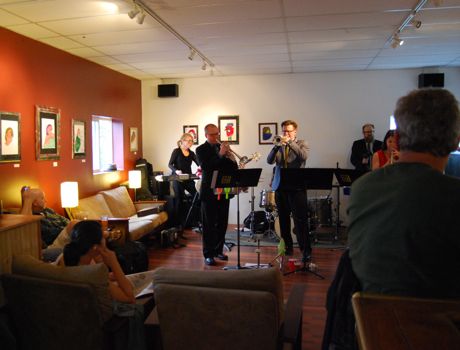 A Rat City Brass performance in the rentable upstairs "living room" was a highlight of Saturday's evening events, as the unseasonal rain kept some of the crowd indoors but with little complaint. A beer tour van shuttled in aficionados visiting from regions unknown to sample some of the ten items on Al and Noelle's current lineup.
Sunday continued the weekend-long celebration with a very family-friendly day delivered as promised, with the hugely popular Caspar Babypants (aka West Seattleite Chris Ballew from Presidents of the United States of America) mesmerizing dozens of enthralled kids on the floor.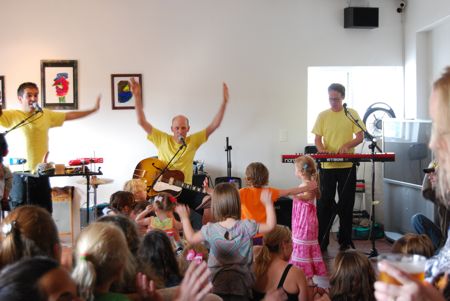 Neighboring family-friendly eatery Proletariat Pizza served up pizza-by-the-slice.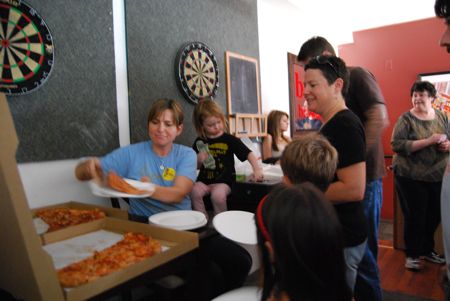 The absence of food service in this production brewery allows for a unique opportunity for folks to bring their food to Al's to throw on the grills provided on their patio. Customers also bring local take-out to Al's from other eateries in White Center as well as from Zippy's Giant Burgers in Highland Park.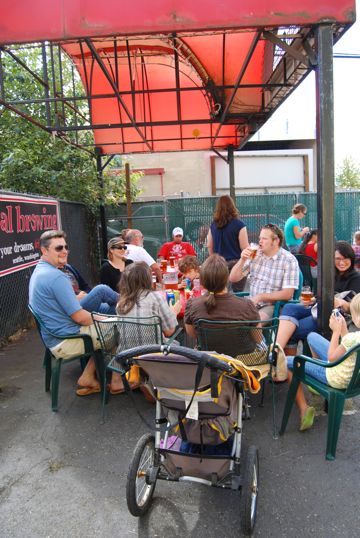 It wouldn't make much sense to celebrate Big Al's two years of achievements without mentioning an additional landmark accolade received in 2009. A national nod at the North American Beer Awards conferred the Bronze medal on Al's Smoky Porter. Big Al's didn't enter this well-regarded and important national competition this year. But the recognition of one of their most popular year-round beers has been an important stepping stone on their path, as Al and Noelle continue to pursue their business plan, which includes visions of filling a gap in a niche national market.
They came to White Center with strong business backgrounds and passion for a craft and have, in part, successfully positioned themselves because of the even application of each of their unique strengths and talents. Al provides a wellspring of creative and technical crafting of beer, while Noelle navigates the business side. For six years prior to opening the brewery, Al was a fiendishly enthusiastic home brewer who had already developed a solid knowledge base and authoritative brewing skills prior to ever turning on a tap for the public at large. Noelle's business degree and marketing background informs the execution of their original goals they set out as well as their evolution as they find themselves at the forefront of the competitive Seattle microbrewery culture. They have accumulated 100+ commercial accounts already.
The economic downturn and any risk of fluctuations in materials cost such as hops seems to have done little to hinder the Browns' original goal of producing 3,000 barrels of beer in three years. In 2009, 1,200 barrels were produced, and the estimate for 2010 is between 1,800-2,000 barrels.
In the closely aligned home brewing market, which is estimated to include several hundred brewers in Seattle, the brewery is something of a magnet of inspiration and experimentation. As well as being congenial, most of the employees are somehow affiliated with home brewing. Collaborating with the Local Hero program, a competition is held four times a year for home brewing customers. The winner is given the chance to produce their beer using Big Al's production tanks. The opportunity to show off their recipes to a wider audience is a once in a lifetime opportunity for some and is highly sought after.
In honor of the celebration, Al tapped just one keg of a young Kriek and will allow the rest to age. Two of their flagship beers, the Abbey Wheat and the Irish Red, were available to honor their beginnings, but there are also seasonal offerings currently up on the menu including Tripel, Summer Lager and Brougham Bitter. The Regular Lineup includes the Irish, Smoked Porter, Papa Charlie's Pale Ale, India Pale Ale and Tutta Bella Amber Ale . The listing of some of the one-ups Big Al's has offered is fascinating and, according to Noelle, the true craft of brewing goes well beyond the classic IPAs, pales and ambers.
Watermelon sour and jalapeno spice beer are just a couple the brewery has put up. But for this weekend, the shining stars were the flagships and the Kriek – a cherry sour. Down the road, they say, if and when the day for expansion comes, they would like to develop a line of sours for national distribution. This wouldn't happen until a second brewery location is established to house the stainless tanks they currently use. The vision is that the 3,800 sq. ft., golden-green White Center warehouse would be used strictly for production of sour beers, a niche market in beer brewing, which would be stored in wood casks there. This line of beer would be the only type they want to take nationally. Though they have not yet even begun to look or pursue second properties, they are keeping in mind the dream's evolution.
The ripples of Big Al's success are felt throughout the White Center business district, since the first day they opened up shop and became what is now recognized as one of the anchors in the new wave of entrepreneurial energy that's been sweeping the area.
Tags: big al brewing
You can follow any responses to this entry through the RSS 2.0 feed. Both comments and pings are currently closed.