Photos: 34th District's Democratic caucus in White Center
(all photos by Dina Johnson – thank you, Dina!)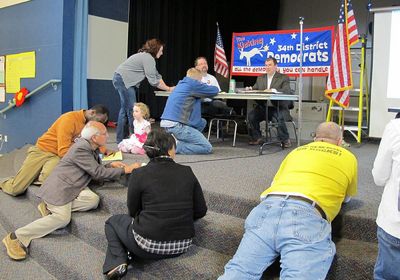 Participants at Sunday's Democratic caucus for the 34th Legislative District had so many decisions to make, some got extra-comfortable to make them. The gathering was in the cafeteria at White Center's Mount View Elementary School – part of the unincorporated area that might be in Seattle's sights: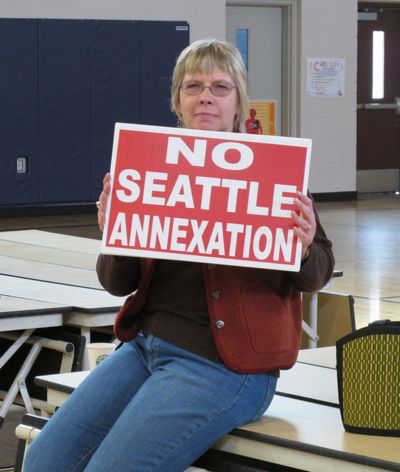 Liz Giba brought her sign to the event, and spoke with inquiring parties about her belief that Burien would be a better match for all of North Highline. Meantime, the caucus's 70 or so participants heard from all three of their state legislators: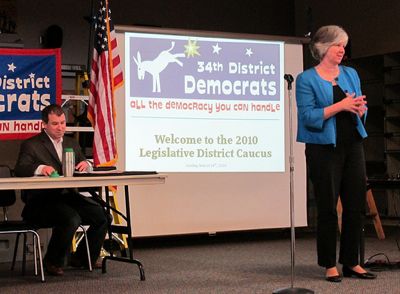 That's Rep. Sharon Nelson, who intends to run for the State Senate job that Sen. Joe McDermott wants to leave to run for County Council – he was there too: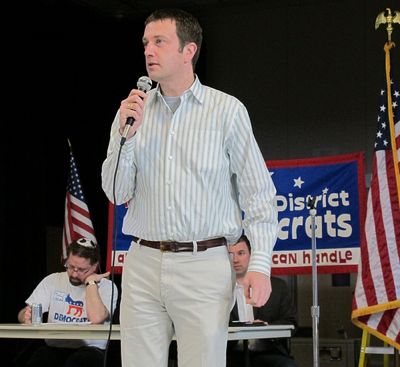 The only 34th District legislator not currently planning to run for something else is Rep. Eileen Cody: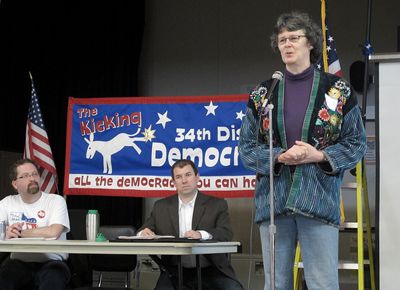 Others who addressed the caucus participants included a 34th District-residing Democrat who currently has a mega-high-profile job, King County Executive Dow Constantine – we got his entire three-and-a-half-minute speech on video for earlier coverage on partner site West Seattle Blog:
In addition to choosing delegates to the state convention, caucus participants heard from candidates in upcoming elections. Among them, Kirk Prindle – a West Seattleite who is one of five people running for one seat in the King Conservation District board election this Tuesday: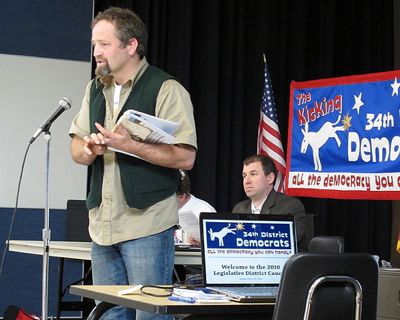 The KCD election isn't conducted like other countywide votes. No voting by mail; no close-to-everyone polling places. You have to go vote in person at one of several polling places; the nearest are Des Moines and Downtown Seattle – they're all listed here. Back to the caucus: The 34th District Democrats' website should have the final results of voting up soon.
Tags: 34th District Democrats, caucuses, dow constantine, eileen cody, joe mcdermott, Kirk Prindle, sharon nelson
You can follow any responses to this entry through the RSS 2.0 feed. Both comments and pings are currently closed.