How Cafe Rozella Changed a Small Corner of the World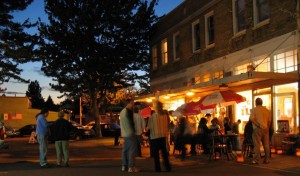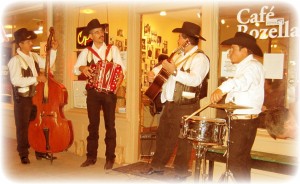 Although descriptions of White Center often include the adjective, "gritty," the reality is that the neighborhood has, in recent years, changed considerably.  Not long ago, prostitutes flaunted their wares throughout the area, drug markets operated openly, drunkards stumbled from tavern to tavern and ruffians roamed the area like extras in a Mad Max movie.  As Herb, the owner of Central Heating on Delridge, put it, the stretch from his business on Cambridge to Cafe Rozella was a freeway of drugs and prostitutes.  I, who have seen some rough neighborhoods, would not step out of my car on the stretch of 16th Ave south of Roxbury.  As far, as I was concerned, this was a no-man's land of losers and predators.  I am not sure how the area became so blighted but part of the reason lies in its netherworld as a piece of unincorporated King County.  In many ways it was the lawless wild west.
White Center was changing before we decided to open Cafe Rozella in 2004.  King Country Sheriff's Deputy, Steve Cox was well underway in his campaign to clean up the neighborhood.  The community had been up in arms against the criminal element for some time.
I grew up in the south side of El Paso, Texas, where biculturalism is a norm.  As well, there were some pretty rough areas and you had to hold your own in a fight.  So when Leiticia and I looked at White Center as a location for a traditional coffee house, one that would honor the best traditions of the European gathering place, we were not put off by the rich medley of cultures.  To the contary, we embraced the immigrant communities who were opening up markets, restaurants, Pho shops, fruit stands, taquerias and carnicerias.  This melange of people were in the process of changing the character of White Center.
In 2003, we scouted out a location for our cafe.  After much searching, we found a lovely gem of a building sitting unadorned in the heart of White Center.  We decided that the Rozella Building would be perfect for what we had in mind.  The Rozella Building was built by Italian immigrants and named after Patriarch's daughters.  Good kharma there.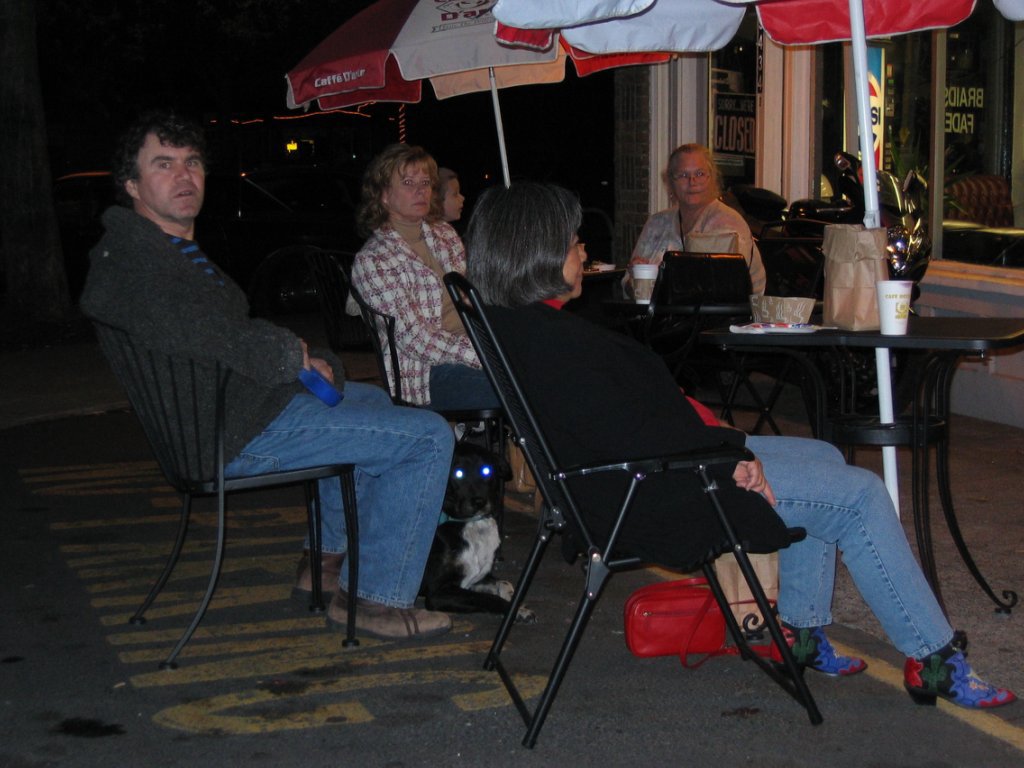 As we took possession and started the demolition before the build-out, we started to get a taste of the old White Center.  Every morning, as we got to work, we would find used condoms, needles, malt liquor cans, and other paraphernalia of the sordid in front of the building.  A resident of the apartments upstairs, told us that four people had died in the aparments in the last year, mostly from acute alchohol intoxication.  Doug, from Center Tool Rental informed us that his alarm went off so many times, he was getting sick of being fined by the police who often arrived after the miscreants had left.  At least two of the upstairs apartments were notorious drug dens and homes for alcoholic denizens looking for a place to pass out.  The laundry room was used by prostitutes to take care of their clients.  And the gangbangers regularly parked in front of the building, hip hop blasting, cold stares at my crew of workers.  Yes, this was going to be a project.
As patrons of the cafe know, we have an outdoor sidewalk cafe with tables and chairs.  Drunkards saw the outdoor cafe as just another place to squat while they downed their cans of malt liquor.  When you are as large as I am, it usually doesn't take much convincing to get these guys to move on.  But occassionally, one would mouth off and refuse to leave.  I found it effective to grab their cans of liquor and squash them.  A couple of times they would lunge at me and I would push them into the cement.  This eventually discouraged vagrancy.
The prostitutes usually showed up on the weekends.  I would take out my digital camera and say, "hey, how'd you like to be on the web?"  The pictures were emailed to the Sheriff.
The gangbangers were a little more difficult.  Lucky for us, Deputy Cox was quick to respond with a couple of extra deputies.  "Ricardo, you want me to move these guys out?" he would ask.  But by this point, the sight of three patrol cars was enough to scatter them like roaches in light.
More pernicious still were the dealers upstairs.  They had a good gig going and they were not about to let it go — easily.  I shot pictures of their customers, and of the dealers and passed them along to Steve Cox.  Still, these guys were obstinate.  Even friendly visits by Cox and his deputies would not convince them to shut down. One of them was especially mean and violent and he not only threatened me but also that big rock of a man Steve Cox.  Weed and Seed folks talked to the landlord and finally convinced him to start removal actions.  The landlord would invariably ask me to serve the legal papers as he was too frightened to do it himself.  A couple of times, Deputy Cox and his deputies had me go do a knock, as they searched for cons with outstanding warrants.  It was a rush.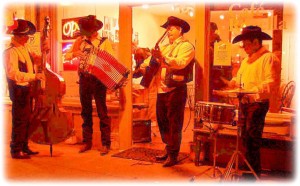 During this time we had the support of the community, including Russell Parks, Betsy Harris, Peggy Weiss, Melinda Bloom and the weed and seed folks, amongst others.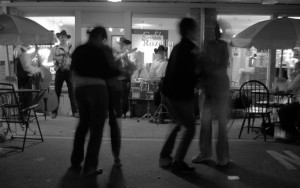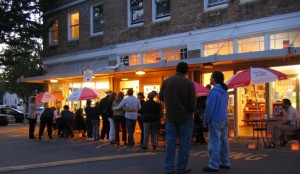 But what really changed the course was the cultural events that we began to sponsor.  Shortly after opening, we had a Brazil night and a Mexican Independence Day celebration.  For the latter, we hired a wonderful conjunto band from South Park.  The place rocked. People were dancing outside of the cafe on a Friday and Saturday night.  Nobody had seen anything like this in White Center.  It was a blast.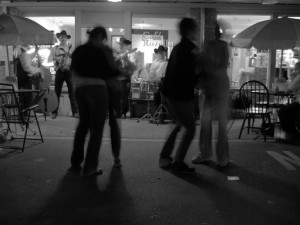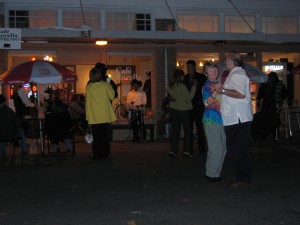 During the summer we started having at least one weekly musical performance in front of the cafe.  Where once the place was littered with vagrants, prostitutes, drunks and dope dealers, we had families and children enjoying the music, frolicking and dancing under the stars.  Surprisingly, there was resistance from some of the old timers in the business community.  But the community loved it.  We followed up with poetry readings, a writers' group, a conversation cafe and other cultural affairs.  Things changed and the continue to change.
You can follow any responses to this entry through the RSS 2.0 feed. Both comments and pings are currently closed.