New York Times Celebrates Fremont and Ballard: White Center Next?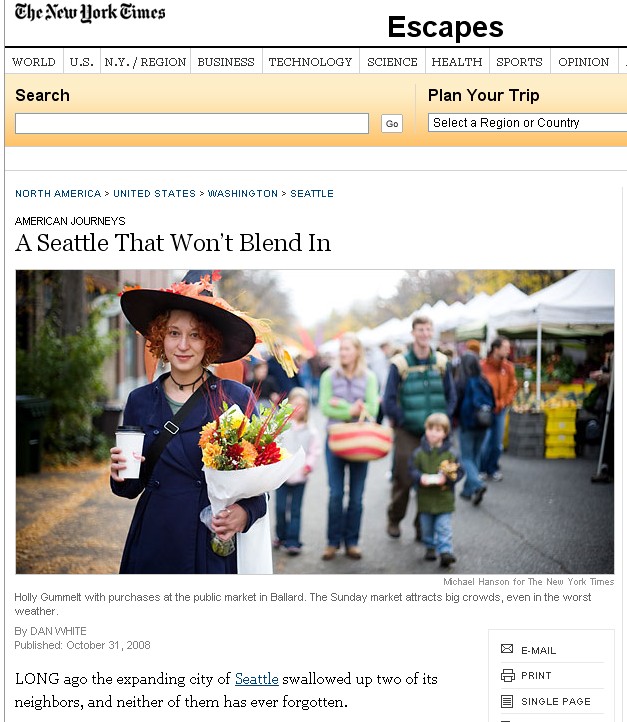 (Picture is from New York Times website)
The New York Times Travel Section celebrates the quirkiness of Seattle's Fremont and Ballard neighborhoods, in a piece entitled, "A Seattle That Won't Blend In." It probably goes without saying, that once the literati celebrate a place's Bohemian character, the place is no longer Bohemian and likely has gentrified to the point of gentility.  True Seattlelites, as the late Emmett  Watson of lesser Seattle might have noted, know that one is more likely to find Adobe geeks, PCC yuppies and trophy wives getting botox shots in Fremont than they are to find witches, hippies and beats.   But so be eat.  Let the tourists have Fremont and Ballard.
At Cafe Rozella we like to riff on the old Fremont, by saying that White Center is the "new" Center of the Universe.  In some sense, we do carrry the torch of real quirkiness, as affordability, ample bars and coffee houses feed the artitistic temperament.   And as we well know, The New York Times is not going to be celebrating our charms anytime soon.  So on this night of witches, warlocks and saints, drink a toast to the White Center that IS before we toast to the White Center that WAS.  Cheers!
You can follow any responses to this entry through the RSS 2.0 feed. Both comments and pings are currently closed.