Burien "starting over again" with partial annexation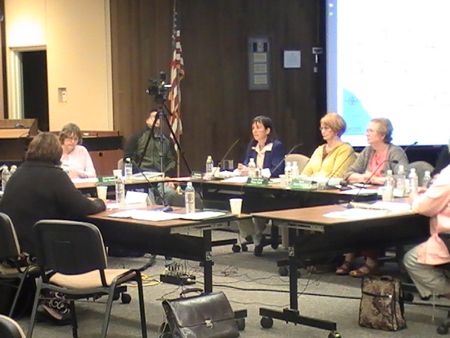 (Burien Council members, seated tonight in "study session" mode)
From tonight's Burien City Council meeting: Councilmembers voted to once again proceed with the planned annexation procedure — targeting part of White Center — that ended with the withdrawal of the proposal about a month and a half ago. They described the process as to some degree starting over again from the same point at which they were last spring. Here's the map of the proposed annexation zone. We'll be following up tomorrow with Seattle reps and others about what happens next from their standpoint. ADDED LATE MONDAY NIGHT: More details on tonight's Burien proceedings:
In the city manager's report just prior to the annexation item on the agenda, Mike Martin said he'd met with the Seattle deputy mayor about annexation and they agreed to talk more at a later time. Martin said "not surprisingly" the city of Seattle is interested in annexing North Shorewood. But he also points out this is still all in the talking stages.
When the actual item came up Martin gave a recap of what had transpired betwen 05/08 and 09/08 when the Boundary Review Board approved withdrawal of that proposal. He then went through the procdure again (filing, then give it 30 days for other cities to respond, etc.). He said that a vote from the study group (tonight) could move things forward or they could wait until next week's full council meeting. It was the staff's recommendation that they should vote tonight.
Councilmember Lucy Krakowiak spoke next saying she wanted to wait. She also had a letter from the North Highline Fire District saying that the NHFD wants to talk to Burien and she thought without talking to all concerned, action was, in her words, premature.
Councilmember Kathy Keene said she respectfully disagreed, pointing out that there's been plenty of meetings and the other cities and districts have had plenty of time to make themselves heard in the process to date.
Three speakers participated in the public-comment period, all with similar themes: The economy is bad, tax revenues will dive, next year is going to be ugly and probably the year after that too; renters will outnumber owners and values will decline and the newly expanded city won't be able to pay
for what it needs to do. Also, they warned that no one can count on the county's money being available since the county just declared itself to be in a MAJOR shortfall mode. General concern here is that the level of services, especially police and fire, will suffer.
Martin was asked: If the process was started, was it possible to back out at some time in the future? He said yes and Burien had already proven that it could be done.
Tags: Annexation, Burien City Council
You can follow any responses to this entry through the RSS 2.0 feed. Both comments and pings are currently closed.