In Search of the Great Burrito: The Saga Continues – In memoriam of Lou's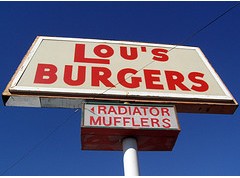 I miss Lou's burgers. There, I admit it, I was addicted to their greasy little packets of nutrition. These were not the picture perfect chemical concoctions that passes for sustanance under the rubric of corporate fast food. Sure, White Center now has some genuine burgers. I'm thinking of the cheeseburger and onion ring platter at the Triangle Pub. And not too far away is Zippy's, where they grind their own chuck. Lou's satisfied a different need, that primal urge for grease. After consuming a Lou's burger you knew that you would survive another winter. Plus they had these tasty things that were made from pods that they pull out of the ground in Eastern Washington. I think they call them potatoes. Yup, those were good little burgers.
Tags: Lou's Burgers, white center
You can follow any responses to this entry through the RSS 2.0 feed. Both comments and pings are currently closed.