Big Al Brewing: A review and event announcement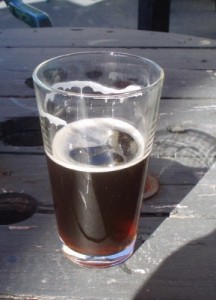 So I went down and tried Al's beers when everything was quiet. At the moment he has two offerings, an Irish Red, and an Abbey Wheat. Both are non-traditional styles, and it is nice to see something different from a Northwest brewer.
The Abbey Wheat; This is not a pale ale. I think it is awesome that someone is brewing something a little different. Personally, I love Abbey beers and I found this one very light and drinkable. By that I mean I could see drinking a lot of them on a hot day.
The Irish Red; I don't know a lot about this style. It is very malty and seems more like a brown ale to me, but the only other Irish Red that I have had was a crappy Busch version of the style, and the only thing red about that was the label. Al's beer is big but not over powering. That is a hard line to walk and he seems to have done it just fine.
The outside is pretty much the same as the old Pac Rim. Not that it's a bad thing. I loved the Rim, and missed having a patio that I drink on. Inside, it is still a little sparse, but I am sure that will change. The lovely wine accent paper is gone. I wished I could have salvaged it before it went into the dumpster.
So all in all I give Big Al a big Thumbs up. He is having his first tap night at Beveridge Place in West Seattle tonight. Go down and ask him when he is going to make an IPA.
Beveridge Place Pub – Brewer's Night
big al and the crew will be at Beveridge starting at 7 pm tonight, 8/14/2008. This is Big Al Brewing's first event outside the brewery, and we couldn't be more excited. We'll have both of our beers on tap and there will be raffles for big al give aways.
Location : Beveridge Place Pub map
When : 7 pm until Big Al can't take any more!
You can follow any responses to this entry through the RSS 2.0 feed. Both comments and pings are currently closed.