WHITE CENTER PRIDE 2023: Celebration starts Wednesday
White Center Pride isn't just the street festival – it's a big lineup of festivities starting Wednesday night (May 31st)! Here's what organizers have shared: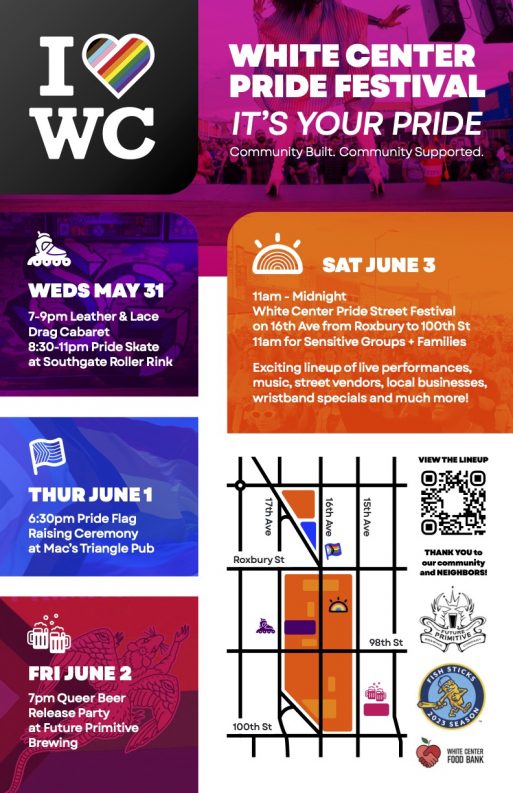 Here's more on the art show: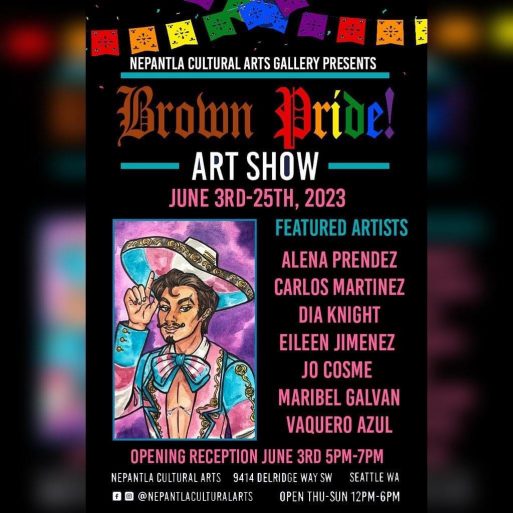 And then – one week from today – the festival lineup!

More details:
Downtown White Center
Saturday, June 3rd
12 pm to 12 am
Open at 11 am for families/individuals with sensitivities

To start the day off our Main Stage opens with DJ Ed Martin, DJ Baby Van Breezy, our Pride Dog Parade, The Pazific, and DJ Redline. Defy Wrestling matches will be ongoing in our Lariat Ring. And our Kids Area will have a DJ, Face Painter, Moon Bounce House, and our White Center Library's Book Mobile with book reading by none other than Aleksa Manila!

In the afternoon our Pop-Up Stage gets going with Mia Moore, Nemesis, Lavina Richards, and Rylee Raw. Tim's Tavern opens with hosts D'Monica Leon & Londyn Bradshaw and bands Xolie + Strange Kid, Batbox, and Mikey Moo. Defy Wrestling continues in our Lariat Ring

Things heat up in the evening. Our Main Stage has #BlackHotSunday curated by Adra Boo. She'll be joined by Taylar Elizza Beth, Jayza, and Divine Augustine. We have Tinashea Monet Presents, DJ Dark Wiley and Queen Andrew hosting a spectacular Drag Queen line up. And Tymira closes out the night. On our Pop Up Stage we have Go-Go Boy performances and Themecandesence' LED show. Tim's Tavern continues the evening with The Aqua Nets, Creature Hole, and Tom Bentley. The Lumberyard Bar hosts Dolly and the DJ. And don't forget to stop by the Art Show at the Nepantla Cultural Arts Gallery as we celebrate Brown Pride!

Main Stage
11:00am – DJ Ed Martin
12:00pm – DJ Baby Van Breezy
12:30pm – Pride Dog Parade
2:00pm – The Pazific
3:00pm – DJ Redline
6:00pm – #BlackHotSunday curated by Adra Boo with Taylar Elizza Beth, Jayza, Divine Augustine
7:00pm – Tinashea Monet Presents
8:00pm Drag show with DJ Dark Wiley, hosted by Queen Andrew with Holli B. Sinclair, Kristie Champagne, Dion Dior Black, Kylie Mooncakes, and Whispur Watershadow
10:00pm – Tymira

Kids Area:
11:00am to 5:00pm Moon Bounce House
11:00am to 3:00pm White Center Library Book Mobile
12:00pm Kids DJ
1:00pm Book Reading with Aleksa Manila
1:00pm Face Painting

Lariat Bar
1:00pm – Match 1
3:00pm – Match 2
5:00pm – Match 3

Pop-up stage
3:00pm – Mia Moore
3:30 – Nemesis
4:00 – Lavina Richards
5:00 – Rylee Raw
6:00 – Tiny Cherub – Gogo
7:00 – Willow – Gogo
8:00 – Caesar Lyon – Gogo
9:00 – Tom Bentley – Gogo
10:00-11:00 – Themecandesence – LED show

Tim's Tavern
Hosted by: D'Monica Leon & Londyn Bradshaw
3:00pm – Xolie + Strange Kid
4:00pm – Batbox
5:00pm – Mikey Moo
6:00pm – The Aqua Nets
7:00pm – Creature Hole
8:00pm – Pre-booked music, do we know who?

Nepantla Cultural Arts Gallery
5:00pm Brown Pride Art Show with:
Alena Prendez, Carlos Martinez, Dia Knight, Eileen Jimenez, Jo Cosme, Maribel Galvan, and Vaquero Azul

Lumberyard Bar
10:00-12:00am – Dolly and the DJ
You can follow any responses to this entry through the RSS 2.0 feed. Both comments and pings are currently closed.