SPORTS: DubSea Fish Sticks sell out Opening Night!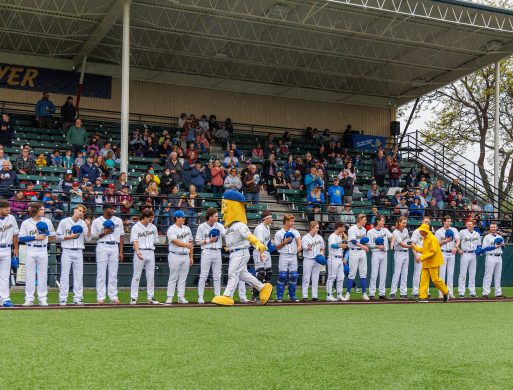 (2022 FishSticks photo by Robby Mullikin, actionpnw.com)
Big announcement from the DubSea Fish Sticks – it's team history!
The DubSea Fish Sticks summer collegiate baseball team's Opening Night on Saturday, June 3rd, sold out today.

"We had a goal this year of selling out multiple games and Opening Night was first on our list," explained President Justin Moser.

This is the first sellout in franchise history, since they started as the Highline Bears in 2015.

The team hosts their events at Mel Olson Stadium which is located inside of King County's Steve Cox Memorial Park in White Center, nicknamed "The Fryer."

The team is known for their crazy antics including throwing out a ceremonial first fish. Where the honoree flings a fish toward home plate instead of a baseball. During non-league games the team also runs an open raffle for a random fan to sign a one day contract and lead off in the game for the Fish Sticks as the "Fan Batter of the Night".

The Fish Sticks recruit players from colleges across the country to come and play for the months of June and July. The 2023 summer roster is made up of players from thirty different colleges. The players report in late May and play with the team to hone their skills and hope to one day play professionally.

The Fish Sticks are still looking for host families for this season for players who are coming from as far away as California, Texas, Florida and Georgia. They are also actively looking for more sponsors and performers to sing the National Anthem.

Single-game tickets for DubSea Fish Sticks games are only $12. If you were unable to get tickets to Opening Night, don't worry. The team will host 26 home games this summer, including every Saturday night from June 3th – July 29th. On Sunday, June 11th the team will play "Banana Ball," which was created by the world-famous Savannah Bananas.

The Fish Sticks also partner with youth organizations and nonprofits to run ticket fundraisers at every game and sell discounted group packages. Opening Night's ticket sales helped West Seattle Baseball raise over $1,000 so far.

You can find more information and secure your tickets for a game at The Fryer online at GoFishSticks.com.
You can follow any responses to this entry through the RSS 2.0 feed. You can skip to the end and leave a response. Pinging is currently not allowed.