Most popular King County pet names of the year!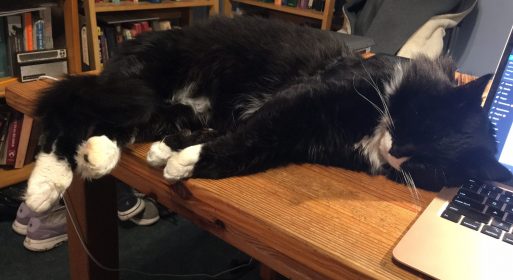 (WCN's recently adopted mascot, whose name did not make the Top 10)
Did you add a pet to your household in 2021? From the database of everybody who did, and who registered that pet with Regional Animal Services of King County – which serves unincorporated North Highline and many other parts of the county – we have the top 10 pet names of the year:
This year, King County residents have registered 66,279 dogs and 27,020 cats. Here are the most popular pet names:

Top 10 Dog Names

1) Bella
2) Lucy
3) Max
4) Charlie
5) Buddy
6) Daisy
7) Luna
8) Bailey
9) Cooper
10) Molly

Top 10 Cat Names

1) Luna
2) Lucy
3) Bella
4) Max
5) Shadow
6) Charlie
7) Kitty
8) Jack
9) Lily
10) Oliver

This list comes from pet license applications submitted to RASKC, which serves nearly one million residents living in 24 cities and unincorporated communities throughout King County.

If a licensed pet is lost, the finder can call the phone number on the pet's tag – a service that is available 24 hours a day, 7 days a week – to quickly reunite them with their owner. Pets receive a free ride home the first time they're found, allowing owners to skip a trip to the shelter. Pet licenses also help fund RASKC and the important work it does.

In addition to handling lost pets and injured animals, pet license fees contribute to RASKC's other vital duties, including animal neglect and cruelty investigations, spay/neuter programs, pet adoption services, and other work to humanely and compassionately assist local animals.

You can purchase pet licenses online, or at more than 70 convenient locations around the county, including many city halls and QFC stores. Learn more at Regional Animal Service of King County's website, kingcounty.gov/pets.
You can follow any responses to this entry through the RSS 2.0 feed. Both comments and pings are currently closed.