SUNDAY: Greenbridge gathering to grieve, post-fire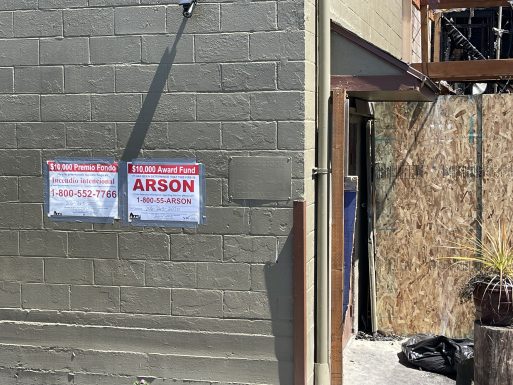 (WCN photo, Friday)
Sunday at noon at Greenbridge Plaza, all are invited – here's the announcement:
This event is being organized by The Boxing Gym Westside. It is meant to be an opportunity for everyone in the White Center community to come together in a spirit of love and healing. A space where we can grieve the loss of the spaces we have held so dear by celebrating them and looking forward.

There will be live drumming with Otoqui Reyes of Hijos de Agueybana as well as other local artists.

**This is a free event**

The Boxing Gym Westside is organizing this event, but please feel free to check the list below for ways that you can contribute to whichever of the businesses speak to your heart.

Please do not let an inability or lack of desire to make a donation keep you from joining us.

This is a casual gathering with no bathrooms provided. Please account for that and also consider that we will be in a neighborhood with many homes surrounding the space – let's be mindful of the energy we are bringing into that space and let's also be sure to clean up after ourselves.

Additionally, have a mask handy and please plan to follow all state guidelines for masking, etc.
Ways to donate via crowdfunding:
*Here's one for the Boxing Gym
*Here's one for staff of the affected businesses
*Here's one for Nuggi, the boba-tea shop that was opening soon
*Here's one for La Tipica Oaxaqueña
*Here's one for Dottie's Doublewide (for new owners who were preparing to reopen)
*Here's one for John's Hair and Nails
*Here's one for Rat City Tattoo
You can follow any responses to this entry through the RSS 2.0 feed. Both comments and pings are currently closed.