THURSDAY: Virtual Job Launch for maritime careers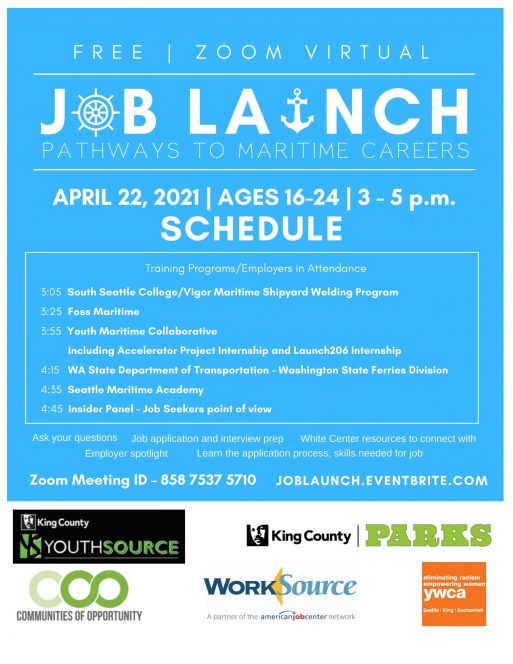 King County Parks and other partners are presenting a virtual career-info event Thursday for teens and young adults interested in the maritime industry!
FREE Virtual Job Launch for ages 16 – 24 is coming up on Thursday, April 22 from 3-5 pm.

The Spring Job Launch Program features Pathways to Maritime Careers. Ages 16 – 24 are encouraged to join virtually through Zoom on Thursday, April 22, 2021 from 3 pm-5 pm. Participating Programs and Employers include South Seattle College/Vigor Maritime Shipyard Welding Program, Foss Maritime, Youth Maritime Collaborative, WA State Ferries and Seattle Maritime Academy. Partner Agencies include King County Parks White Center Teen Program, YouthSource, the YWCA, Job Source, and Communities of Opportunity.

Hear from employers, workers, and training programs about the many different jobs, internships, and career paths in the Maritime Industry in King County. The Maritime Industry incorporates a variety of land-based occupations in design, manufacturing, and boat repair, along with roles on the water, from engineering to vessel operations. The importance of maritime for both commercial trade and tourism results in stable, well-paying jobs, and an increase in retirements due to an aging workforce creates new career opportunities.

More details are available at joblaunch.eventbrite.com
That link is also where you'll find the info for attending.
You can follow any responses to this entry through the RSS 2.0 feed. Both comments and pings are currently closed.