North Highline Unincorporated Area Council talks Legislature, stormwater @ December meeting
By Tracy Record
White Center Now editor
Previews were the order of the night when the North Highline Unincorporated Area Council met online last Thursday.
Two of our area's 34th District state legislators previewed the next session, and a King County rep previewed
LEGISLATORS' PREVIEWS: State Sen. Joe Nguyen and State House Rep. Joe Fitzgibbon were the first guests, to talk about the legislative session ahead. Sen. Nguyen – just elected to a leadership post – opened with a recap of the busy time between sessions. He said he works a lot on transportation and technology (his professional background is in the latter). "Helping youths be successful" is another focus, "on the human-services side." Leading up to the session, "progressive revenue" has been a major focus for him, with so many needs. He talked about growing up in Park Lake Homes – now Seola Gardens – and how the kinds of programs that helped his family then need support and investment now. Climate and sentencing reform are also priorities.
Rep. Fitzgibbon hopes to continue as the chair of the Energy and Environment Committee (House leadership decisions will be made next week). There are many environmental issues, he noted, from addressing air/water pollution to improving recycling and composting. He now lives close to White Center, he added, in south Highland Park, not far north of the city-limit line. He hopes to pursue the fireworks-law changes again this year, to help facilitate a ban in unincorporated King County (provided the County Council passes one). He also talked about land use and ensuring that affordable housing is more equitably distributed.
NHUAC's Liz Giba talked about what she had found regarding a sizable amount of affordable housing being built in White Center and Fitzgibbon agreed that more had to be done to avoid that sort of concentration. "We have to find a balance," said Nguyen, while again noting that affordable housing served his family years ago. Giba talked about the need for an Opportunity Analysis, with White Center having been ranked as a "low-opportunity neighborhood" with rampant health challenges. NHUAC's Barbara Dobkin added that there's a cycle – they've been told affordable housing is built there because the costs are lower, but that leads to increased community needs that can't be addressed.
Dobkin also pointed out that unincorporated North Highline is plagued by rural-style rules, or lack of them, such as no required trash pickup, no revenue for road repairs, no tree protection. Fitzgibbon agreed that the Growth Management Act doesn't account for how unincorporated urban areas like White Center and Skyway can be appropriately addressed. He also agreed that it's most appropriate for development to go where there's infrastructure to support it. Ultimately, North Highline needs to be incorporated into "one of your neighbors," he said. Dobkin pointed out that it's not likely to happen for a long time, but in the meantime the area is served by as little as two deputies at a time. "There's a lot of connecting problems … I wish there were an easy answer," Rep. Fitzgibbon said.
At that point, King County Local Services Director John Taylor chimed in. "I will say this, there are some good things going on for unincorporated King County," largely because of his department's creation, he said – among them, the Subarea Plan development, which is "now a community plan," not just a land-use plan as originally envisioned. That'll include a Community Needs List, which is the place for the kind of needs Dobkin detailed. That's not necessarily a guarantee such services will be funded, but it starts to set up some accountability, he said. The recently passed budget includes a $10 million capital fund for unincorporated King County, as well as the $1.8 million (or so) marijuana taxes that'll be reallotted. "We're a lot better off today than we were two years ago," Taylor declared, adding that pre-COVID, they were close to sending a road levy to voters … but that will be revisited. He said the tree protection issue might be easily solvable; the trash issue, not so easy to address. (He revealed he worked as a trash pickup person for 5 years.)
In Q&A, Sen. Nguyen said he's been working on the "state bank" bill, which he sees as a "fantastic opportunity …I'd rather keep those dollars in the community instead of sending them out." Next Q: Any chance of state help for White Center impacts from the West Seattle Bridge closure? Sen. Nguyen said a transportation package is a priority but the state doesn't have jurisdiction for traffic mitigation. He added that the area's US Rep. Pramila Jayapal is working on bridge funding too.
An attendee asked about absentee landlords; the state doesn't have jurisdiction there, but local code compliance might help.
Next question: Whatever happened to the microhousing "demonstration project"? No further details – even Taylor hadn't heard anything recently.
One attendee asked about the White Center Food Bank's need to find a new space because of the affordable-housing project taking ovrer its site. Sen. Nguyen said he's been talking to them to figure out how to help.
What about the Top Hat site that's never been used for COVID quarantine – a rumor suggested it might be a supervised injection site. Giba said County Councilmember Joe McDermott had assured them the site's fate had not been settled and would not be without community input.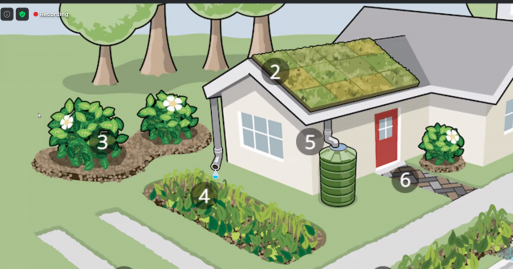 GREEN STORMWATER INFRASTRUCTURE: Jessica Engel from the county explained the concept. She showed an example – Hillside Church in Kent donating use of an underutilized parking lot that was converted into 44 garden beds, plus cisterns, composting systems, and bioswales.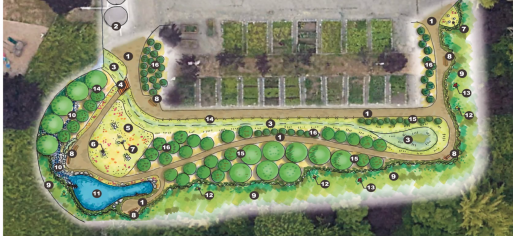 It's growing a lot of food and not even done yet, Engel said. She said they'd like to hear from the White Center community about what kind of project might work, what kind of incentives might be needed, etc. This is Phase 2 of preparatory outreach, she added, citing lots of enthusiasm so far: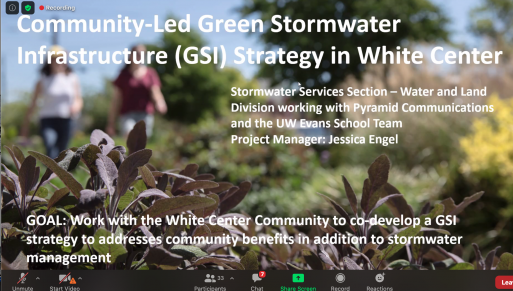 They have funding for 2021 and 2022 to "implement what the community wants to see." Now they're looking for more suggestions about who they should talk to.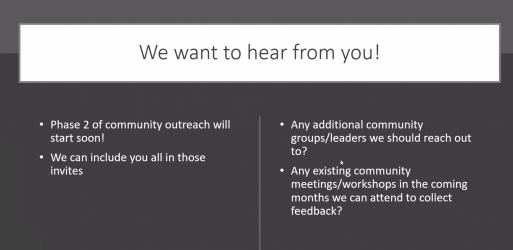 In Q&A, Engel was asked about runoff standards for new development. It's pretty stringent – with a manual – she replied, so what they're trying to get under control is what existing development. produces. What about cleaning up Hickman Lake? Engel said some community conversation would be needed – "do people want it to be restored? recreational opportunity? ecological function?" The program, by the way, is funded by a fee that property owners pay plus grant funding.
A new White Center resident asked about the overall goal of the program: Reduce flooding and reduce polluted runoff getting into local waterways.
CRIME: Deputy Bill Kennamer said that for October, major crimes are up (largely fueled by auto theft), less-serious crimes are down, though he suspects the latter might just be fewer victims filing reports.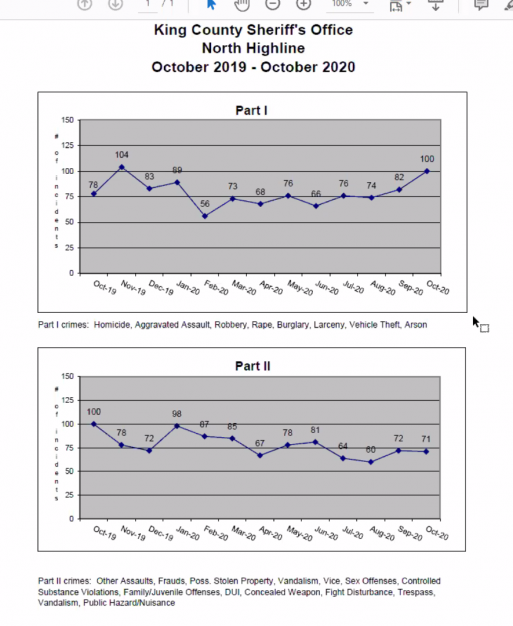 He said the recent West Seattle Marijuana Store heist was a "takeover robbery," armed, forcing the manager to open the safe, and also making off with several hundred dollars in merchandise. He plans to talk with cannabis-shop operators about "a better safety plan."
He also said they're looking for the suspect in the 14th SW SWAT domestic-violence situation.
Maj. Jeff Flohr followed to talk about firearms crimes. A special team has confiscated 118 guns from felons in the past couple years. "That's a real impact," he said. Also: "LEAD is still coming to White Center." And he said there's ongoing discussion about policing reform and supplementary service. Yes, "the cops DO want this" – homelessness and crisis responses, and more. "We're very open to criticism, we're very open to change," he insisted. He would like to have a third car in the area, though. White Center only has about half the officers per capita that Seattle does, though, he added. The budget's done, staffing's not changing, special emphasis teams remain.
Giba noted that the previoud day was the 14th anniversary of Deputy Steve Cox's murder.
NEXT MEETING: January 7th, 7 pm, online.
You can follow any responses to this entry through the RSS 2.0 feed. Both comments and pings are currently closed.