VOTING: White Center drop-box update, with 1 week to go, and ballot-measure reminders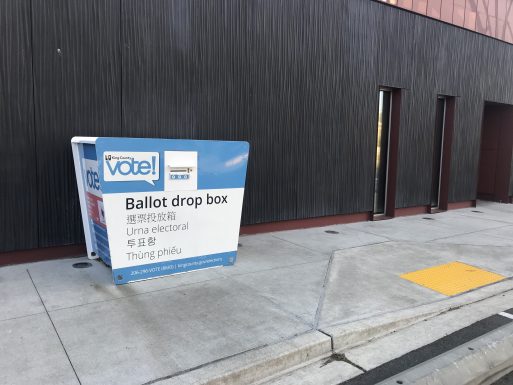 That's the King County Elections drop box outside White Center Library (1409 SW 107th), where you can take your ballot any time, day or night, until 8 pm next Tuesday (November 3rd). As of first thing this morning, 7,049 ballots had been turned in there. In another measure of local turnout – this one, counting ballots received via both drop boxes and USPS mail – almost half the North Highline Fire District's 11,258 registered voters have turned theirs in so far – 5,367. Mentioning the NHFD is relevant since its "benefit charge" is one of the issues on the ballot. Also of note, the Highline Public Schools technology levy, and King County charter amendments including whether to revert the Sheriff's job to an appointed, rather than elected, position.
You can follow any responses to this entry through the RSS 2.0 feed. Both comments and pings are currently closed.